More about this activity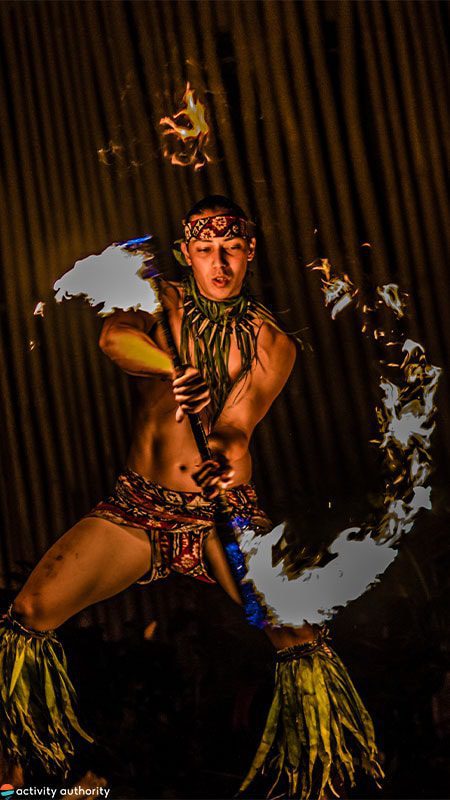 From the vibrant hula dances to the delicious spread of Hawaiian food, the whole family is sure to be happy with the luau at the Royal Lahaina Resort, Myths of Maui. This show brings an authentic Hawaiian experience to visitors from around the world. Guests will be treated to performances showcasing the beautiful cultures of Hawaii, Tahiti, New Zealand, and Samoa. With hula lessons, lei making, and temporary tribal tattoos, you can expect to feel the aloha at the Royal Lahaina Resort.
All You Care to Eat Buffet
Feast like the chiefs of Hawaii with the Royal Lahaina Resort's spread of fresh dishes, sweet desserts, and tropical drinks. Enjoy an authentic Hawaiian menu of Molokai Sweet Potato, Lomi Lomi Salmon, Island Fish, Teriyaki Chicken, Slow-roasted Kalua Pork, Fresh Poi, Sweet Haupia, Guava Cream Tarts, and much more. Treat yourself to complimentary cocktails served all night long from Myths of Maui's tropical beach bar. With the island's only Keiki Buffet, the whole family is sure to be full and happy.
Myths of Maui Luau Show
The Royal Lahaina Resort takes you on a journey throughout the Pacific by showcasing the unique dances and histories of different Polynesian cultures. Guests can hear, and witness legends of Hawaiian culture come to life through the vibrant performances. From the beautiful hula to the enticing Tahitian dance and exciting Samoan fire-knife dance, Myths of Maui will leave you enchanted all night long.
Activity Authority is a third-party reseller of the Myths of Maui luau, which gives us the ability to sell this Maui luau at the same rate as the Royal Lahaina with real-time availability.  Our affiliation has been going strong for many years now, servicing both locals and visitors of Maui.

Nearby Areas:
Lahaina • Napili • Kapalua

Myths of Maui Luau Photos

Myths of Maui Luau Video