Top 5 Oahu Snorkel Spots
The quintessential Hawaiian vacation includes a day spent under the surface of the water, exploring the rainforest of the sea- coral reefs. Thanks to Hawaii's unique, isolated position in the Pacific, there are over 1,250 marine species that can only be found on Hawaii's reefs! Vibrant-colored corals, hundreds of types of fish, eels, sea cucumbers, and turtles are just a few of the marine mammals you might spot while snorkeling.
On Oahu, there are a number of great snorkeling spots. Whether you are a complete beginner or veteran snorkeler, we've narrowed down the five best places for snorkeling on Oahu based on accessibility, visibility, and the reef.
Snorkeling PSA: Snorkeling is the #1 cause of visitor death in Hawaii, which is why you should go on a guided snorkel tour. Please exercise caution, only snorkel with a guide/buddy, and assess ocean conditions before entering the ocean. Also, do not step or stand on the reef. Corals are living animals, and stepping on live coral can not only lead to cuts and nasty infections, but it can severely damage and even kill living coral. Mineral-based reef-safe sunscreen only, please!
Hanauma Bay
Hanauma Bay is Oahu's crown jewel of snorkeling and sees the likes of over one million visitors a year. This crescent-shaped bay is an excellent place for beginner snorkelers to test the waters (literally). Not only is the reef at Hanauma Bay regarded as one of the best on the island, but the area is heavily regulated under the careful eyes of Honolulu lifeguards.
In 1967, Hanauma Bay was deemed a Marine Life Conservation District, and steps to preserve the bay have been taken by the City and County of Honolulu ever since. Today, only a limited number of visitors are allowed in the preserve daily. All visitors must watch an educational video upon arriving to learn about the marine life in the bay, preservation, and safety rules. There are strict laws regarding touching and approaching sea life in the park, so be sure to keep your hands to yourself. Reservations are required to enter, and the park is closed on Mondays and Tuesdays.
Despite the hurdles you have to jump through to visit Hanauma Bay, a visit to the park is highly recommended. Not only is the area home to a thriving marine ecosystem and some of the best snorkeling on the island, but it also offers an excellent opportunity for visitors to learn about and appreciate Hawaii's coral reefs.
Know before you go:
● Due to its immense popularity, reservations are required.
● Entry is limited to 1000 guests per day.
● The park is closed on Monday and Tuesday to give the reef a break.

Sharks Cove
Along with Hanauma Bay, Sharks Cove is also located in a Marine Life Conservation District, although reservations are not required. Sharks Cove is located on the famed North Shore, which means this spot is strictly a summertime-only snorkel spot. In the winter months, the large swells from the north make this spot deadly.
Despite its name, you're unlikely to spot any sharks in Sharks Cove. Instead, you'll probably spot an abundance of tropical fish like Humuhumunukunukuapuaʻa and perhaps a turtle or two. There are shallow sand corridors that weave throughout the rocks, making it easy to spot scores of fish cruising in the caverns of the reef. The depth in the cove is relatively shallow, only about 2-4 feet deep. As you make your way out of the cove, the seafloor starts to slope down and ranges from 6-20 feet deep. Keep in mind Sharks Cove is a rocky area. Entering and exiting the water can be tricky. Be sure to watch your step.
Know before you go:
● Due to large swells in the winter months, Sharks Cove is strictly a summertime snorkel spot only.
● Arrive early; it gets crowded quickly.
● Don't leave valuables in the car; Sharks Cove is a hotspot for car break-ins.

Kuilima Cove
Kuilima Cove is one of the best beginner snorkeling spots on Oahu. Also located on the North Shore, Kuilima Cove is nestled on the eastern edge of the Turtle Bay Resort property. Unlike Sharks Cove, Kuilima is more protected from the large north swells. A natural rock barrier encases the cove, and the conditions are often serene with clear visibility. The average depth is only about neck deep.
Under the surface, Kuilima Cove is dotted with coral flats and flourishing with tropical fish. Colorful butterflyfish, parrotfish, boxfish, tangs, and wrasses are just an example of Kuilima Cove's underwater bounty. The calm conditions here make this spot ideal for kids, and the beach is sandy and great for relaxing as well.
Know before you go:
● Kuilima Cove is located at the Turtle Bay Hotel on the North Shore.
● Kuilima Cove is generally a safe spot to snorkel and suitable for kids, but no lifeguard is on duty.
● No need to get here early; there is plenty of parking and amenities.

Kahe Point Beach Park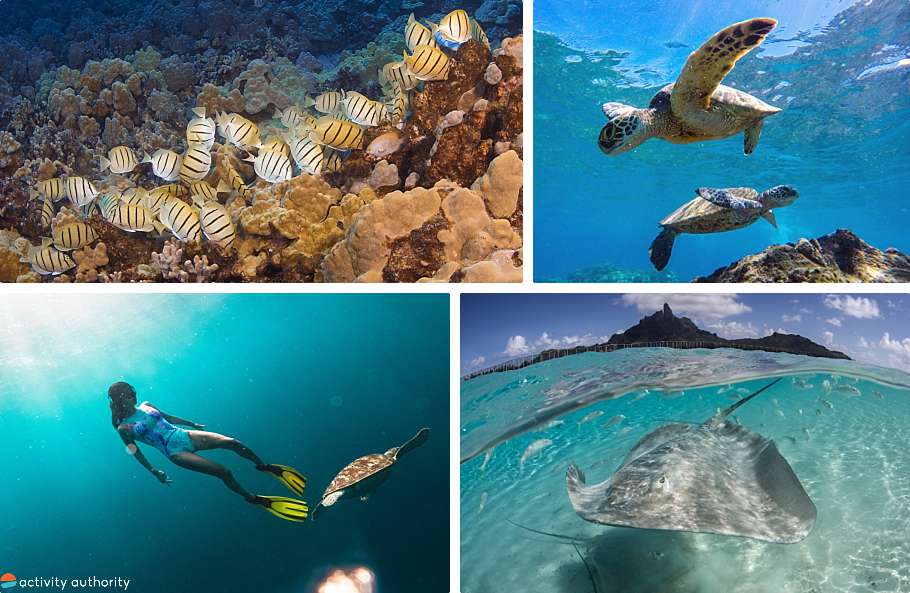 Located on the west side of Oahu near Ko Olina, Kahe Point Beach Park is nicknamed Electric Beach. This peculiar nickname stems from the electric plant located nearby. The plant sends clean, warm water offshore through two large cooling pipes. As a result, the temperature near the pipes is several degrees warmer and attracts a myriad of sea life, including spinner dolphins.
Kahe Point Beach Park is an intermediate to advanced snorkel spot only. There is quite a bit of swimming involved, and the large pipes spewing water can not only be intimidating but are strong enough to send you careening underwater. However, if you are a beginner snorkeler, a trip with a tour is a great way to ensure you are carefully watched over and accounted for. There are a handful of tour boats that visit Kahe Point.
The water at Kahe Point is said to have some of the best visibility on Oahu. The clear blue water reaches about 20 feet deep and is absolutely teeming with sea life. Corals, an abundance of fish, turtles, and spinner dolphins are frequently spotted here. Kahe Point also has a small strip of sand to relax on after snorkeling, as well as amenities like showers and restrooms.
Know before you go:
● Since the best of this reef lies a little way offshore, it's recommended that only intermediate to advanced snorkelers launch from the beach.
● For beginner snorkelers, consider taking a snorkel tour to Kahe Point.
● No lifeguard on duty.

Queens Beach
While the snorkeling at Queens Beach might not be as impressive as other sites around Oahu, it is located in a Marine Life Conservation District, so there is still plenty to see. On top of that, Queens Beach is situated in the heart of Waikiki, making this spot one of the most accessible spots with decent snorkeling on the whole island.
Queens is beginner-friendly as long as there is no south swell, making the winter months prime for this snorkeling spot. Unfortunately, the south swell also ruins visibility. Queens Beach is composed mainly of sand, so entering the water here is very easy. The water depth slowly angles down as you head out. Here you'll find coral flats and other patches of reef. There should be some tropical fish darting around, and maybe even a sea turtle or two.
Know before you go:
● Avoid snorkeling here if there is a south swell. This spot is best in the winter months.
● Some of the other Oahu snorkel spots might be more awe-inspiring, but the accessibility at Queens is second to none.
● On calm days, this is an excellent spot for beginners.
● Queens is located in a Marine Life Conservation District.

Looking for something else?
Check out what to do while visiting Oahu.