*** On August 8, 2023  wildfires on Maui devastated the West Maui town of Lahaina and the surrounding area. Our deepest condolences go out to all of the people, families, and businesses affected by this terrible event. Unfortunately, Lahaina Town and Lahaina Harbor will be off-limits for some time, but small businesses, activity companies, and restaurants in other parts of Maui will need the help of visitors to stay afloat. Please visit, donate, volunteer, and support local whenever possible.
For Maui activities in other areas, see Maalaea, Kihei, Kaanapali, Haleakala, Hana, Paia, and Wailea.
Also, see below for donations to employees of specific luaus.


MAUI LUAU UPDATES
September 2023
We've added most updates to each Maui luau section below.  See who's sold out, who's got tickets and when, and more updates on the Top Maui Luaus below.
Few things say Hawaii like a luau.
Do a quick search of Maui luaus, however, and you may get lost in the abundance of options. Which luau is best for the whole family, and which luau presents fire dancers? With that in mind, we've compiled a list of the top five Maui luaus. Here they are—and what makes them magnificent.



Borrowing its name from the moku (or district) upon which the luau is presented, the Grand Wailea's gorgeous production, ʻAhaʻaina Wailea, tells the enchanting story of two of Hawaii's first founders. Laʻamaikahiki and Moikeha were Tahitian voyagers who sailed to Maui aboard a canoe, thereafter calling the island's sunny southern shore their home. Through chanting, dancing, and singing, the Grand Wailea Luau's deluxe, four-hour event reveals the evolution of Maui's earliest people and how they came to live in harmony. In addition to traditional luau fares like Kalua pork and poi, the menu features modern faves such as macadamia nut-crusted mahi-mahi, chow fun with pork char siu, and pineapple upside-down cake. ʻAhaʻaina Wailea—which offers hula lessons and Hawaiian lawn games—also looks out upon one of the loveliest and most photographed beaches in Hawaii.
Know Before You Go:


We're beyond impressed with everything that goes into the Andaz Luau in South Maui.  First, the grounds are impeccable, with one of the better ocean views for watching the sunset.  Each table has a server bringing high-quality signature drinks and multiple dishes per course.  What sets this luau apart?  THE FEAST!  The ribeye steak can compete with any award-winning steakhouse, without a doubt.  Delicious fish, local dishes, desserts, and more! This is an obvious choice for one of the top Maui luaus.
Know Before You Go:


This is one of our favorite luaus largely because of the location.  Don't get me wrong, everything else they're doing is on par with the best Maui luaus, but the Sheraton Luau has an amazing, large private lawn right on the ocean.  You can walk down and dip your toes in the ocean while watching the torch lighting ceremony and watch the cliff diver jump off Black Rock at sunset.  Guests will be treated to lighthearted, entertaining commentary along with Hawaiian and Polynesian songs, dance performances, and an impressive fire knife dance. Sunset views and tropical cocktails make this the perfect date night activity or night out with friends and family.
Know Before You Go:


Translating to "the ocean tide," Te Au Moana emphasizes Hawaiians' love and association with the 'aina. Before the imu ceremony and feast, guests at this oceanfront gathering are introduced to several vital Hawaiian rituals, including tapa making—or the construction of fabric from trees and shrubs—coconut husking and flower crafting. The feast itself is one for the records: a buffet-style extravaganza that includes grilled teriyaki steak, seafood pasta, pineapple coleslaw, and Molokai sweet potatoes. The Marriott Wailea Luau is located on a bank of grass above glimmering water; the kiawe and palm-fringed views of the Pacific are nothing short of astounding. But it's the special, authentic touches—from displays of Polynesian weaponry to fishing demonstrations—that make this 'aha'aina so delightful.
Know Before You Go: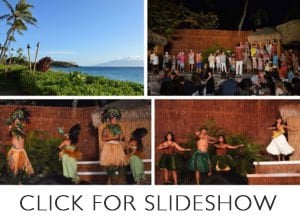 Inexpensive, family-friendly, conveniently located, and with one of the best shows on Maui, the Myths of Maui Luau is definitely one of the top Maui luaus! Set upon the beautiful Kaʻanapali shoreline, Myths of Maui takes you on a voyage throughout Polynesia. Guests are welcomed with a shell lei and warm aloha as they begin their evening in paradise. Enjoy an all-you-can-eat buffet showcasing Hawaii's finest cuisines and be treated to complimentary cocktails all night long. The beautiful hula and exciting fire-knife dance will leave you breathless. With an unbeatable Maui sunset as your backdrop, you will surely have a memorable night at the Royal Lahaina!
Know Before You Go:


Old Lahaina Luau
Yes, we've listed more than 5 top Maui luaus.  The five luaus above are fantastic, and the Old Lahaina Luau is hard to place due to its not being available without booking months in advance (as well as fire dancing not being included.) Nonetheless, Old Lahaina Luau has consistently ranked as the number one luau on the island. And for a good reason: Its sensitivity to cultural accuracy renders it exceptional. Traditional luaus attended by native Hawaiians furthered their connection to the land in that meals were served and eaten from lauhala mats on the ground. Old Lahaina Luau honors this custom, just as it honors Hawaii's ancient form of storytelling through a passionate insistence on precision (and details that speak volumes). Moreover, Old Lahaina Luau serves ʻuala—authentic sweet potato beer brewed exclusively for the event by Maui Brewing Co. The celebration's ocean-side location adds to its brilliance, while the West Maui Mountains in the foreground offer a sense of mysticism.
Know Before You Go:

Feast At Lele – UPDATE: Due to the Lahaina Fires, Feast at Lele is completely gone.  Please consider donating to their employees via GoFundMe.

Hyatt Luau (Drums of the Pacific) – 2023 & 2024 Bookings Are Available Starting October 1, 2023!  Open 7 nights per week. The standard seating is $202 and $101 per child ages 4-12. VIP is available at $250 per person and $125 for each child ages 4-12.

A little more about Maui luaus and Luau history
These ultra-entertaining feasts have their roots in ancient Polynesia when the second king of the united Hawaiian Islands lifted the kapu that banned men and women from eating together—and royalty from dining with common subjects.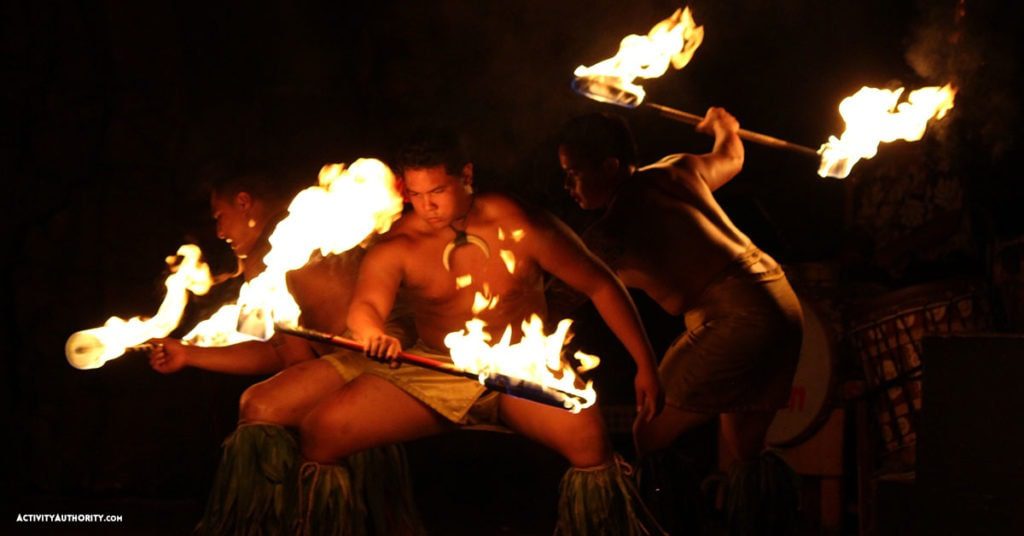 That groundbreaking event in 1819 became known not as a luau (indeed, in the traditional sense, "luau" refers to a cherished dish of chicken and taro cooked in coconut milk) but as an 'aha'aina—literally, a "gathering for a meal."
And what gatherings they were. In 1847, King Kamehameha III hosted a fête that included 271 pigs, 2,245 coconuts, 3,125 salted fish, and over 4,000 kalo plants—a staple of kanaka maoli that comprises poi.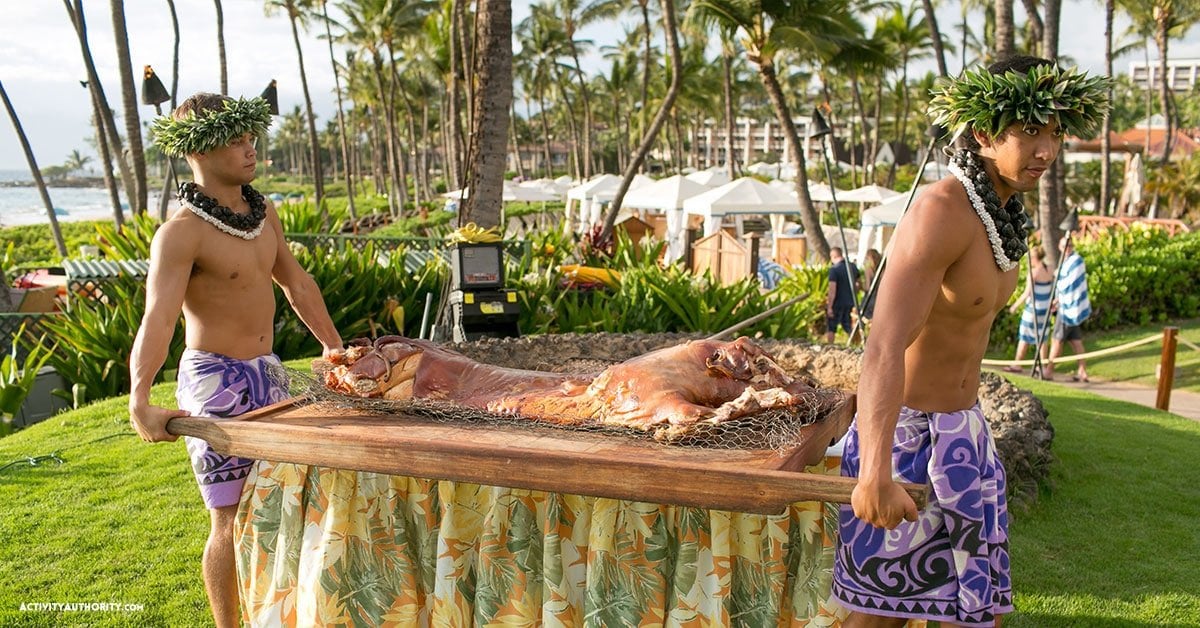 Hawaii's contemporary take on this native ritual may be more modest in number but is no less spectacular. For most, no Hawaiian holiday is complete without attending at least one 'aha'aina, and nearly every major island presents luaus of epic proportions.

FAQs

Still can't decide?
Get more in-depth information about each Maui Luau.