MAUI LUAU UPDATES:
(December 14th, 2020) 
What changes can we expect at Maui luaus in our new world?  Who's opened back up and which luaus are still waiting?
Though some of the luaus are playing their cards close to the chest, others have come out sharing their opening dates and new plans/pricing.  We've called every luau to find out and will keep you updated here.
Andaz Luau (The Feast at Mokapu) – OPEN NOW! Sundays and Tuesdays from 5:30-8pm.  Due to their having to distance tables, fewer tables are available.  Thus there's a price increase for classic seating from $200 adults ($100 children) to the new pricing of $240 adults ($120 children.)  Premium seating is now $300 for adults and $150 for children.
Marriott Luau (Te Au Moana) – OPEN NOW! Preferred Seating is now available for Mondays and Saturdays.

 

With distancing and fewer tables, they're only selling the premium seats at $173.96 and $104.17 for children (5 and under are free.)
Royal Lahaina Luau (Myths of Maui Luau) – OPEN DECEMBER 24th and will resume their normal schedule through December 31, 2020.  As of January 1 – February 28, 2021, the Myths of Maui luau will be held Tuesdays, Thursdays, and Fridays ONLY Standard tickets are $125, children 6-12 are $55, and 5 and under are free.  VIP tickets are $175/adult, $105/children, and $50/children 5 and under. No "show only" tickets will be available in the foreseeable future.
Grand Wailea Luau ('Aha'aina Wailea Luau) – OPEN DECEMBER 25th and 31st for multiple luaus back to back. Reservations are being taken now for those 2 days, but we don't know when it will regularly be open again.
Feast At Lele – Reservations will be taken again on December 1st for their reopening on

December 21st, 2020

.  This reopening date has been pushed back once already, so we'll keep you updated if this new date changes.
Old Lahaina Luau – Reservations are available online beginning

December 26th, 2020

, but we haven't gotten confirmation yet due to limited staffing.
Hyatt Luau (Drums of the Pacific) – OPEN NOW! Sundays and Wednesdays.  Standard seating $100/adult and $50/child or Table for 2 at $395. VIP seating is $495 for a table for 2.
Sheraton Luau (Maui Nui Luau) – Reservations are not available online, and when we called, they said the opening date will be

sometime in 2021

.  No target date has been made.

Few things say Hawaii like a luau.
Do a quick search of Maui luaus, however, and you may get lost in the abundance of options. Which luau is best for the whole family, and which luau presents fire dancers? With that in mind, we've pulled together a list of top five Maui luaus. Here they are—and what makes them magnificent.

Translating to "the ocean tide," Te Au Moana places emphasis on Hawaiians' love and association with the 'aina. Prior to the imu ceremony and feast, guests at this oceanfront gathering are introduced to several vital Hawaiian rituals, including tapa making—or the construction of fabric from trees and shrubs—coconut husking, and flower crafting. The feast itself is one for the records: a buffet-style extravaganza that includes grilled teriyaki steak, seafood pasta, pineapple coleslaw, and Molokai sweet potatoes. The Marriott Wailea Luau is located on a bank of grass above glimmering water, the kiawe and palm-fringed views of the Pacific are nothing short of astounding. But it's the special, authentic touches—from displays of Polynesian weaponry to fishing demonstrations—that makes this 'aha'aina so delightful.
Know Before You Go:
Offers shows on Mondays, Thursdays, Fridays, and Saturdays
Children 5 and under are free
Cultural interactions
Located at the Wailea Beach Marriott Resort & Spa
One of the most popular luaus throughout Hawaii.


We're beyond impressed with everything that goes into the new Andaz Luau in South Maui.  First off, the grounds are impeccable with one of the better ocean views for watching the sunset.  Each table has a server bringing high-quality signature drinks and multiple different dishes per course.  What sets this luau apart?  THE FEAST!  The ribeye steak can compete with any award-winning steakhouse, without a doubt.  Delicious fish, local dishes, desserts and more!
Know Before You Go:
Offers Tuesday and Sunday shows
Great for foodies, couples, families
Unique lei greeting
Located at the Andaz Maui at Wailea Resort
This luau is new and is regarded as having the best food.  With only 2 nights a week, seats book up fast!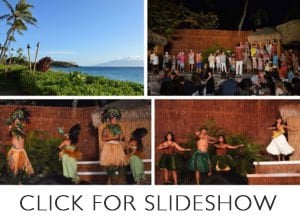 Inexpensive, family-friendly, conveniently located, and with one of the best shows on Maui, the Royal Lahaina Luau is definitely in the top 5! Set upon the beautiful Kaanapali shoreline, Myths of Maui takes you on a voyage throughout Polynesia. Guests are welcomed with a shell lei and warm aloha as they begin their evening in paradise. Enjoy an all-you-can-eat buffet showcasing Hawaii's finest cuisines and be treated to complimentary cocktails all night long. The beautiful hula and exciting fire-knife dance will leave you breathless. With an unbeatable Maui sunset as your backdrop, you are sure to have a memorable night at the Royal Lahaina!
Know Before You Go:
Offers shows 7 nights a week
Fire Knife Dancing is spectacular!
Traditional arts and crafts demonstrations
Located at the Royal Lahaina Resort
Still some seats left this month!


This is one of our favorite luaus largely because of the location.  Don't get me wrong, everything else they're doing is on par with the best Maui luaus, but the Sheraton Luau has an amazing, large private lawn right on the ocean.  You can walk down and dip your toes in the ocean while watching the torch lighting ceremony and watch the cliff diver jump off Black Rock at sunset.  Guests will be treated to lighthearted, entertaining commentary along with Hawaiian and Polynesian songs, dance performances and an impressive fire knife dance. Sunset views and tropical cocktails make this the perfect date night activity, or night out with friends and family.
Know Before You Go:
Offers Monday and Wednesday shows
Great for couples and for families
Fresh flower lei greeting
Located at the Sheraton Maui Resort and Spa
Usually has less tables than the other luaus. Reserve before it books up!


Borrowing its name from the moku (or district) upon which the luau is presented, the Grand Wailea's gorgeous production, 'Aha'aina Wailea, tells the enchanting story of two of Hawaii's first founders. La'amaikahiki and Moikeha were Tahitian voyagers who sailed to Maui aboard a canoe, thereafter calling the island's sunny southern shore their home. Through chanting, dancing, and singing, the Grand Wailea Luau luxe, four-hour event reveals the evolution of Maui's earliest people and how they came to live in harmony. In addition to traditional luau fare like Kalua pork and poi, the menu features modern faves such as macadamia nut-crusted mahi mahi, chow fun with pork char siu, and pineapple upside down cake. 'Aha'aina Wailea—which offers hula lessons and Hawaiian lawn games—also looks out upon one of the loveliest and most photographed beaches in Hawaii.
Know Before You Go:
Offers shows on Mondays, Thursdays, Fridays, and Saturdays
Great for kids
Open seating
Located at the Grand Wailea: A Waldorf Astoria Resort
This luau sells out quick!


Old Lahaina Luau
Yes, we've listed 6 luaus.  The Five Maui luaus above are fantastic, and the Old Lahaina Luau is hard to place due to it's not being available without booking months in advance (as well as fire dancing not being included.) Nonetheless, Old Lahaina Luau is consistently ranked the number one luau on the island. And for good reason: Its sensitivity to cultural accuracy renders it exceptional. Traditional luaus attended by native Hawaiians furthered their connection to the land, in that meals were served and eaten from lauhala mats on the ground. Old Lahaina Luau honors this custom, just as it honors Hawaii's ancient form of storytelling through a passionate insistence on precision (and details that speak volumes). What's more, Old Lahaina Luau serves uala—authentic sweet potato beer brewed exclusively for the event by Maui Brewing Co. The celebration's ocean-side location adds to its brilliance, while the West Maui Mountains in the foreground offer a sense of mysticism.
Know Before You Go:
No fire dancing is offered
Books up months ahead
Offers shows 7 nights a week
Traditional, modern, and vegetarian options
Located off Front Street in Lahaina
UPDATE: We just went to the new south maui Luau at the Andaz – Feast at Mokapu which could replace the Old Lahaina. We know, blasphemous! BUT, it was incredible. Great food/drink, incredible fire dancing and hula show, and the location is superb.

A little more about Maui luaus and Luau history
These ultra-entertaining feasts have their roots in ancient Polynesia, when the second king of the united Hawaiian Islands lifted the kapu that banned men and women from eating together—and royalty from dining with common subjects.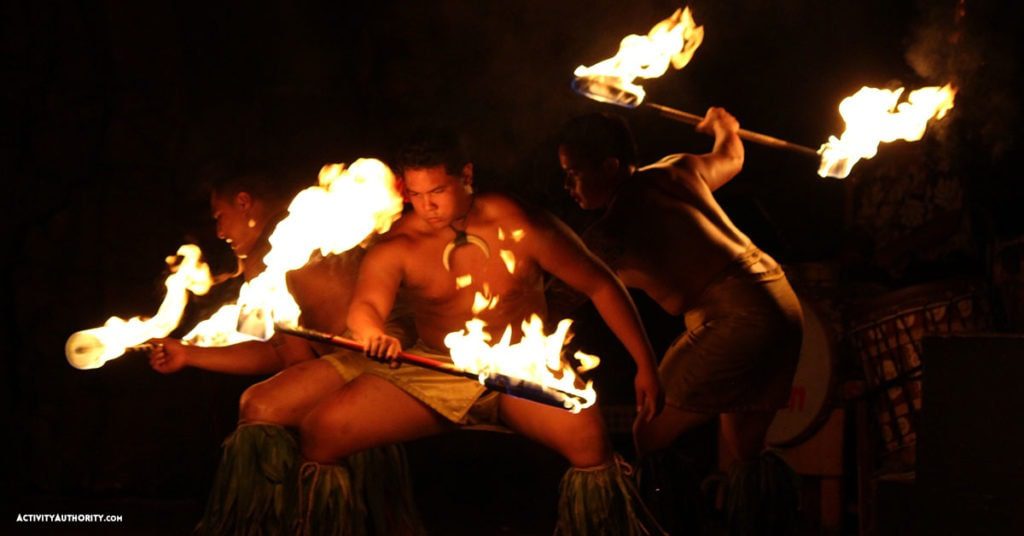 That groundbreaking event in 1819 became known not as a luau (indeed, in the traditional sense, "luau" refers to a cherished dish of chicken and taro cooked in coconut milk) but as an 'aha'aina—literally, a "gathering for a meal."
And what gatherings they were. In 1847, King Kamehameha III hosted a fête that included 271 pigs, 2,245 coconuts, 3,125 salted fish, and over 4,000 kalo plants—a staple of kanaka maoli that comprises poi.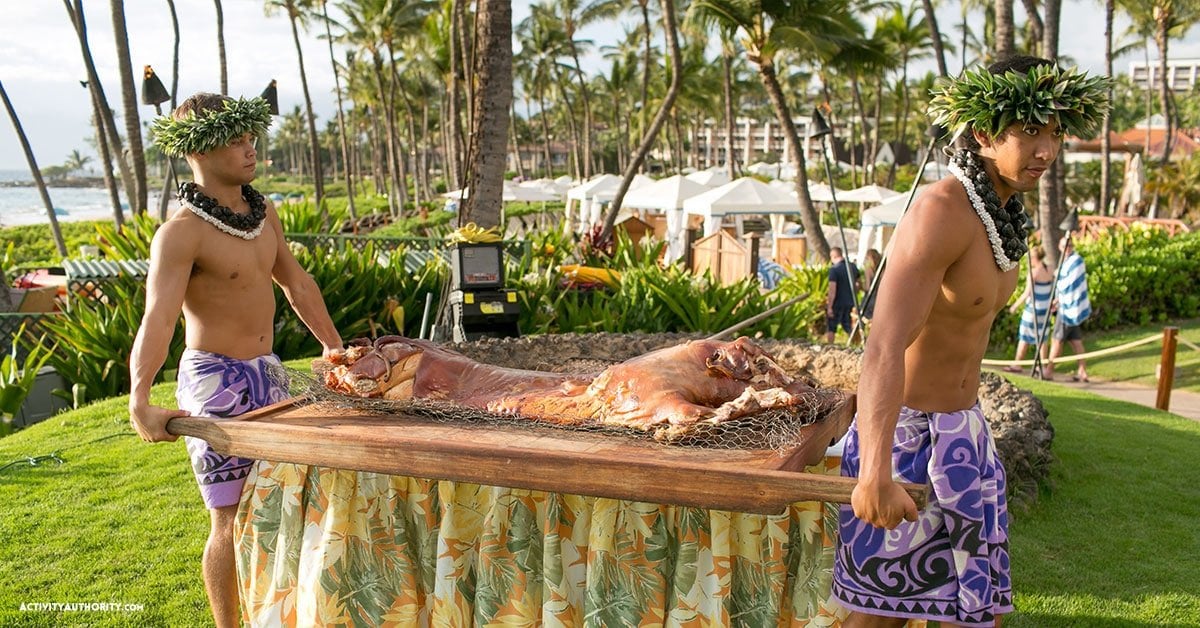 Hawaii's contemporary take on this native ritual may be more modest in number but is no less spectacular. For most, no Hawaiian holiday is complete without attending at least one 'aha'aina, and nearly every major island presents luaus of epic proportions.

FAQs

Still can't decide?
Get more in-depth information about each Maui Luau.