Best Kauai Luaus
"Sublime" often comes to mind when describing Kauai—and it's no exaggeration, either: From picturesque Hanalei Bay to the arresting Na Pali Coast, the oldest island in the Hawaiian archipelago booms with beauty and heart. And while simply stepping outside in Kauai is a feast for the senses, there's no better way to soak up its splendor than at a luau. Here are 5 of the top luaus on Kauai —and what you can expect at each of them.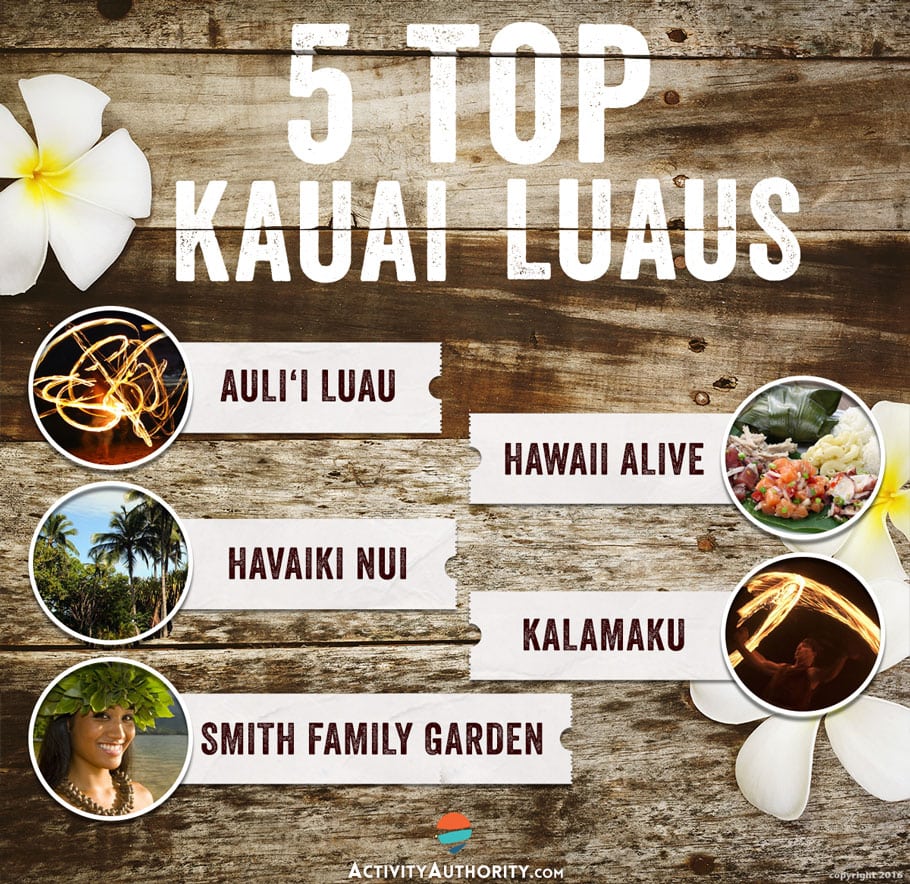 The Kilohana Plantation—a 104-acre oasis that saw extravagant parties during its heyday—serves as the dramatic backdrop of Luau Kalamaku, a theatrical luau that's garnered great acclaim. The state-of-the-art media system and interactive stage design don't just transport guests into ancient Hawaii—it puts them at the heart of the story. That tale follows Polynesians as they traveled across the Pacific to the Hawaiian archipelago and through the fear and seduction that rests at the core of Kauai mythology. Dance enthusiasts will be thrilled with the graceful hula and precise Tahitian numbers, while food enthusiasts will be floored by the banquet prepared by the geniuses at the award-winning Gaylord's Restaurant. With a buffet that includes everything from pineapple upside-down cake to the fresh island fish with ginger and coconut—and featuring a crafts air with work by local artisans—the entire evening is one for the record books.  If you want more than standard seating, check out their Premier Seating.
Know before you go:
• Have a penchant for shopping? Arrive at the plantation early, where you can browse boutiques that include the Banana Patch Studio & Aloha Spice Company and the Kauai Plantation Railway Train Depot Gift Shop—a store that's as charming and eclectic as it sounds.  You can even do the train ride with the luau!
• Those searching for a truly lavish experience ought to check out The Plantation Owners Evening. In addition to the show, you'll be treated to a four-course meal at Gaylord's Restaurant, a champagne toast, premier luau seating, and complimentary drinks.
• Keen on tying the knot during a luau? Luʻau Kalamaku has you covered: The venue is available for weddings, as well as private parties, graduations, corporate events, and more. Now that's aloha.
Sells Out Fast.  BOOK Now!

Situated on Poipu's waterfront on Kauaʻi's sunny south side, the 'Auliʻi Luau is all about giving guests an authentic taste of ancient Hawaii. Locally owned and operated, the outfit is a 100% family affair—and this infuses the whole shebang. The event is derived from Hawaii's celebration of family-style entertainment, where hula wasn't Hollywood kitsch but a revered spiritual custom. As such, the dances at this luau are fantastic, ranging from kahiko (the ancient hula of Hawaiian mythology) to kahiki (the drum dances of Tahiti) to siva afi (the mesmerizing fire dance of Samoa). The food is just as culturally inclusive and delicious, moving beyond the standard fare of Kalua pork and poi to also include the many flavors of Hawaii (think: island vegetable chow mein and ahi ogo poke with Hawaiian sea salt). The setting itself will make you wish you could cancel your ticket home, boasting everything from the luminous Pacific to coconut palms to the occasional rainbow.
Know before you go:
• Have food allergies? Check out 'Auliʻi Luau's menu online before arriving: It includes a list of common allergens and which dishes you need to stay away from—and which you ought to indulge in.
• Bring cash: The luau offers gifts for sale, including fresh lei and lovely arts and crafts.
• Prefer to be near the stage? Upgrade to Aliʻi Seating. You'll be close to the revue, will be the first in line for the buffet, and will receive a specialty lei greeting (if ever there's $25 well-spent).
Sells Out Fast.  BOOK Now!

3. Hawaii Alive Luau Show & Dinner – Kauaʻi Marriott Resort
Now in its 53rd year, the Hawaii Alive Luau Show & Dinner at the Kauaʻi Marriott Resort is the longest-running show in Hawaii. It's endured for a reason: One of the few luaus to offer a show-only option, it allows guests to dine on their own before savoring the Hawaiian performance—or to go the whole nine yards and enjoy their all-you-can-eat buffet too. And what a buffet it is, giving diners choices that range from huli huli (rotisserie) chicken to Hawaii's signature coconut dessert, haupia. Whatever you choose, be prepared to be amazed by the entertainment. Led by the acclaimed Puana family, it features all the best of luaus: Fire, drums, upbeat music, and excellent dancing.
Know before you go:
• Keep an eye on your itinerary: the Hawaii Alive Luau Show & Dinner is performed on Monday nights only.
• Valet parking is free for luau guests at the Kauai Marriott Resort.
• Don't forget your phone: Kalapaki Beach, in front of the resort, is an ideal place for photos.

4. Havaiki Nui Luau – Grand Hyatt Kauaʻi
Held on Wednesdays and Sundays at the Grand Hyatt Kauai, this enchanting luau is a solid choice for the whole ohana. Hawaii's richest stories are told through ancestral Polynesian dances, culinary wonders inspired by the islands are whipped up for your enjoyment, and interactive Hawaiian crafts and demonstrations—including hula lessons—will take you from passive observer to part of the fun. The Grand Hyatt elevates the basic luau buffet by offering exceptional options, including guava mousse cake and volcano-spiced fresh fish with mango coulis. The lush setting in balmy Poipu enhances the dreamlike feel the luau creates.
Know before you go:
• Premier admission is well worth the price: It includes reserved seating in the first two rows near the stage (no waiting!) and a souvenir tiki glass.
• Cramming in a bunch of activities on your Kauai trip? Not to worry: This luau runs 2.5 hours, allowing you to fit it into even the tightest of itineraries.
• During inclement weather, the luau moves inside to the resort's ballroom, which some praise as giving guests a more intimate experience.

5. Smith Family Garden Luʻau – Wailua River Valley
"Food may be the heart of a luau, but music is the soul," says Kamika Smith. He would know: As the General Manager of the Smith Family Garden Luau, he oversees his family's production, which not only includes a paʻina (or feast) of epic proportions—Kalua pig roasted in an earthen imu oven; Kamika's cousin's Gary's secret-recipe teriyaki beef; namasu salad—but also a colorful revue that incorporates music and dances from China, Japan, New Zealand, the Philippines, and, of course, Hawaii. All of this and more is set against the sacred Wailua River Valley on Kauai's "Coconut Coast," where luau guests are given a pre-luau tour around the estate's verdant 30 acres—and where tiki torches, night-blooming lilies, and an erupting volcano add to the grandeur. Deemed the "Best Luau on the Island" by Kauaʻi Revealed, this affair pays homage to the many cultures that comprise modern Hawaii.
Know before you go:
• Visiting Hawaii aboard a cruise ship? The Smith Family Garden Luau presents "ship nights" luaus from February to October, with transportation from Pride of America for $18.
• Have keiki in your crew? Children of all ages are welcome—and children under two receive complimentary admission.
• Vegetarian options are available—just be sure to let your booking agent know when you make reservations.

What to do before the luau?
Get more in-depth information about Kauai Activities.