Our trip last week to Universal Studios Hollywood was our first in 30+ years! Here we share some of the things we did right with our whole family and many things we would do differently next time.
KEY PROS: We opted for the Universal Express Passes when buying Universal Studios Hollywood tickets. The cost of the passes fluctuate seasonally based on demand, and we got it on the worst day. We paid over $300/ticket, about 3X the standard price. We don't do Theme Parks very often, so we decided to go big (also, I'm allergic to long lines.) Is the Universal Express Pass worth it at Universal Studios Hollywood? YES! Every penny. We had 2-3 minute lines on rides that were estimated to take almost 3 hours! We walked past hoards of people, and that alone was worth it.
KEY CONS: Our timing wasn't great. We went a few days after Christmas, the day after strong winds and rain, and we thought it would be less crowded due to it still being drizzly and cold out. Wrong! We arrived to a sold-out park (which in our opinion was 40% above capacity.) Also, Super Nintendo World is in view, but it doesn't open for another few months. I think once it opens, if capacity stays the same, it'll be a little better. You can see an aerial view of Super Nintendo World in the video we made. Kinda want to play full-size Mario Kart!
The following shares our experience at Universal Studios Hollywood. We read a number of blogs about it beforehand, so we decided to get the lower lot done first. Here's a look at some of what Universal Studios Hollywood has to offer:
UNIVERSAL STUDIOS PARKING
On arrival, we saw automated signs saying the park was sold out. Thankfully, we bought our tickets online the night before. It's a good idea to download their free app for your phone beforehand (the only free thing you'll get for a while.) It has the map, line waits, descriptions of each show, ride and attraction, and menus for each place to grab food.
We decided early on that this would be a premium experience (though we decided to not do the VIP tickets since we knew we'd show up late and not get to everything.) So, we decided to pay for the best parking. Our parking guy said that the front gate parking wasn't really worth the extra $20, since it's just the top floor of the Frankenstein Parking Structure, so we got the 2nd tier. The Front Front Gate parking was gone long ago (since we arrived around 10 am.) It still cost us $50 to park.
Universal Studios Entrance
We arrived to masses, though entry wasn't long. We got in with a 5-minute wait. They allow for bags to be brought in, along with Hydro flasks and snacks. PRO TIP: Bring TONS of snacks. And if you can get away with it, bring lunch items. I say this not to deter you from spending money on their dining options, but the Express Pass doesn't help with food lines. We waited to order lunch in a line that took over an hour.

LOWER LOT
We headed down the 4 escalators among masses of people to the lower lot. It was obscene how many people they allow in this park. I get that they need to make a profit, but knowing how much we spent by the end of the day (close to $2K for 4 people), they could easily cut down capacity by 25% and make a profit. They'd make it a far more positive experience.
Jurassic World – The Ride
We decided to do this one first since we heard the most about it. Again, Express Pass saved us from over an hour and a half of waiting. We breezed onto the ride! A negative about this quick onboarding is that we didn't get to watch the looped briefing video, which explains that you get wet. Now, this is winter time, and it's unseasonably cold in Southern California right now. We didn't realize how this would affect the rest of our day. Also, with Express Pass, you often get the front row. This is great on most rides (or on Jurassic in mid-summer.)
To be very clear, we got SOAKED! I mean drenched to the socks and more. You get wet I think 4-5 times, but the worst was the 2nd time. I was wearing a rain jacket, and somehow the water made it inside. The majority of the river we were in went into my pants. That being said, the ride was great. The final drop is 6-Flags-exciting! We loved it. I was worried my littlest one (7 years old) would be freaked out, but he handled it well.
After the ride, we sat in any sun we could find, and slogged off to the next ride. Here's a little more about the ride:
Jurassic World Ride at Universal Studios Hollywood is the ultimate adventure for thrill-seekers. It's a jaw-dropping, heart-pounding experience that will make you feel like you've stepped right into the world of dinosaurs. The ride begins with a gentle lift and then quickly accelerates to speeds of up to 40 miles per hour as it twists, turns, and dips through the track. You'll weave around lush vegetation (yes, these movies were filmed on several islands of Hawaii), soaring above ancient terrain, and face off with animatronic dinosaurs in life-like scenes. And after getting your adrenaline pumping on this exciting coaster, take some time to explore the immersive Jurassic World area located nearby. Here, you can marvel at dinosaurs in their native habitats along the park's Valley Creek boardwalk or traverse the Raptor Encounter paddock—all while taking in Universal Studios' stunning scenery. Whether you're looking for a thrilling adventure or simply want to visit an amazing theme park attraction with amazing views, Jurassic World Ride has something for everyone!
Revenge of the Mummy Ride
We didn't actually manage to do this one. I was worried our sensitive little one would be traumatized. We asked each worker what their favorite ride at the park was, and most said the Mummy. So I regret not having jumped on solo. We hear it's one of the best of their heart pounding rides. Here's some more about it.
This pulse-pounding roller coaster plunges riders into a world of enthralling special effects and remarkable surprises. On this thrilling ride, guests will experience spine-tingling drops, fireballs, and terrifying scarab beetles as they navigate through ancient tombs. It's an exciting journey with plenty of heart-stopping twists and turns.
Transformers: The Ride 3D
Again, my little one handled this one well. It's what you'd expect in that it's violent and loud, but what a ride! We loved it! They do a great job of making you feel like you're moving fast and flying through the adventure. I'm wondering how long it'll take for them to do VR Goggles. It felt very close to what it's like to use Oculus. That'd be one step further, but I'm sure they've tested it, and the majority of people would get motion sickness. Here's more about the ride.
Get ready for an action-packed adventure with Transformers: The Ride 3D! Guests will join Optimus Prime and the other Autobots in a fight against Megatron and his Decepticons in this incredible 3D ride experience. With intense levels of thrills and excitement, it's sure to be an unforgettable experience!
Outside of the ride was a real Optimus Prime talking to everyone. I'm still not sure how they managed this costume. One person inside, one person outside talking, and one person controlling the arms and head? I don't know. Pretty impressive. The actor inside was pretty funny and perceptive, playing off the crowd.

UPPER LOT
We then shot up to the Upper Lot for the rest of our day. The crowds continued to grow, and it was a sea of people. I'm not sure how much our little ones got to see of the street facades and characters.
The Simpsons Ride
We jumped on the Simpsons Ride and were pretty disappointed. We all felt sick afterward, and the 4-D effects like spritzing us with baby powder fragrance was nasty. It felt misplaced, considering the experience felt more geared toward younger kids, though younger kids don't really watch that show. We wouldn't recommend this ride. Even the outdoor facades are a little off. There are annoying sirens going off and it just feels like what you wouldn't want to experience at any theme park. Here's what they would say about their ride.
The Simpsons Ride at Universal Studios Hollywood is one of the most thrilling attractions in the entire theme park. Located in the Springfield section of the park, this 3D motion simulator ride whisks guests into a wild and entertaining adventure with the lovable Simpson family. From the moment you step inside, you'll be surrounded by all your favorite characters from Krustyland, as well as replica buildings inspired by Springfield featured on the show. Once everyone is securely seated and buckled up, you'll embark on an exciting journey of twists and turns as you virtually explore Krustyland with Homer, Marge, Bart, Lisa, and Maggie! Along the way, you will experience some mild bumps and drops that are sure to surprise even those who have ridden it before. With over 1 ½ minutes of thrilling action, your mission is to help The Simpsons family escape from the wrath of Sideshow Bob while taking in beautiful simulated views of landmarks such as Itchy & Scratchy Land and Coolsville. Part roller coaster, part video game — The Simpsons Ride delivers a one-of-a-kind experience that can not be missed when visiting Universal Studios Hollywood! Just outside, you'll find be able to play interactive games like at a carnival.

HARRY POTTER WORLD
We then swung over to the Harry Potter World, and honestly, you could make an entire theme park in this vein. It was AWESOME! Every part of it was a win. We headed back after dark to check it out again, just because it was so great.
Flight of the Hippogriff
We first do the Flight of the Hippogriff, a sort of small roller coaster. It was so much fun, only it lasted for what felt like 30 seconds. The line at the time was about an hour long, and I would have been really bummed had we not used Express Pass to go front row immediately.
Harry Potter and the Forbidden Journey
In my honest opinion, this is the best ride in the park. It was phenomenal! This Harry Potter ride has a similar setup as Transformers, only you're moving through a track, up and down, on a crane! I looked to the side, to see how other guests were being transported and could see this massive crane jutting people up and down through this complex course of experiences. It felt very real! I loved every second.
The only disappointment was that our Express Pass allowed us to walk directly on, and our kids ran the whole way. So we didn't get to fully experience the impressive wizarding world sets along the way, which were very cool. The kids bolted. I yelled, but they ignored me or didn't hear, and I missed out on this part. Oh well. Here's some more on the ride.
The Harry Potter Ride at Universal Studios Hollywood is a thrilling and magical journey into the world of wizardry. The ride begins as you enter an expansive waiting area, filled with props from the Harry Potter films that bring the magic of Hogwarts to life. As you make your way through the queue, you'll be treated to a detailed narrative about the magical creatures and enchantments found in this beloved world. As you board your enchanted carriage, you'll wind through this magic world, before soaring over Hogwarts School of Witchcraft and Wizardry, casting spells on unsuspecting villains below (and you're right along side Harry Potter on a Nimbus 2000). During your journey, you'll experience exciting drops, spectacular special effects, and encounters with some of the most memorable characters from the films. You'll see Hagrid on his motorbike, Dementors creeping around corners, and dragons breathing fire above your head! When the ride finally comes to an end, you'll find yourself back in London feeling exhilarated after experiencing all the magic of Harry Potter's world!
Magic Wands and Ollivanders
So now on cloud nine, we stepped into a magic wand shop. All the shops here are built with so much detail. It was fun looking through all the different wands. The kids loved it! Then I realized they cost around $60 each. I grinned through it and bought 2. My son was excited but said they were not "really powerful" when we explained the magic. 7 is a little more skeptical these days. But we had no idea what they were truly capable of until we noticed other Universal guests USING them.
We quickly learned that the metal plaques on the ground in front of shop windows and other key locations shared a spell and wand movement that would control magic! All of a sudden my little one was not as sky about using his wand (and hasn't let it go almost a week later.) This is the smartest use of a theme park I've ever seen! Kids would practice the wand movement, and when they go it right, a flower would blume, music would play, cauldrons would stir and bubble, fire would jut out of chimneys, and much more! The price of the wand all of a sudden felt almost ok. No, it was worth every penny seeing our kids freak out over what they could accomplish. Probably our best money spent at the park. Ollivanders is considered a ride on their app, though I'd call it more of an interactive attraction. AMAZING!
Frog Choir
Some amazing voices and inspired characters to watch. Worth stopping for a song. It definitely encouraged our holiday spirit.


Universal Studios Dining
Mel's Diner
We heard that Mel's offered the best options for gluten-free, so we headed there. The food was ok, but the wait was incredibly long, and the staff a bit confused. They let us order some items gluten-free (tuna melt), then told us they couldn't do it. I had to order something else, then they came back and told me they pulled it off. I assume their process is prepackaged in every possible way, though it didn't feel like it while waiting. This confusion added an extra 45 minutes to our hour-long wait.
We read that every food provider and snack stall would refill water in our hydro flask (park policy.) But we never found one that would. They pointed to some nasty drinking fountains. We'd love to see them offer refill stations with filtered water.
Tables are very hard to find. People are hovering over others while they eat waiting for them to get up. Again, they need to cut down on capacity.

The World Famous Studio Tour
By the time we got on the World Famous Studio Tour, something I was very much looking forward to with fond memories from my youth, it was dark. Even with the Express Pass, we had to wait a bit, and we got put in the very last car in the last row. Knowing the experience, we should have waited for the next tram.
Our tram tour operator was knowledgeable and funny. You could tell he himself was an actor, and we enjoyed his shpeal. Going at night made for a missed opportunity and cold weather. Even though we'd almost completely dried out from our 10 am Jurassic ride, it was really chilly. We didn't get to see many of the sets lit up, so that was a miss. Also, the 3D experiences are worthless in the back row. It's all warped and you can't really see what's going on. Being in the middle on the side would be key. Also, when he explained certain things along the slow-moving tour, you don't really get to see it for a minute. So keep that in mind.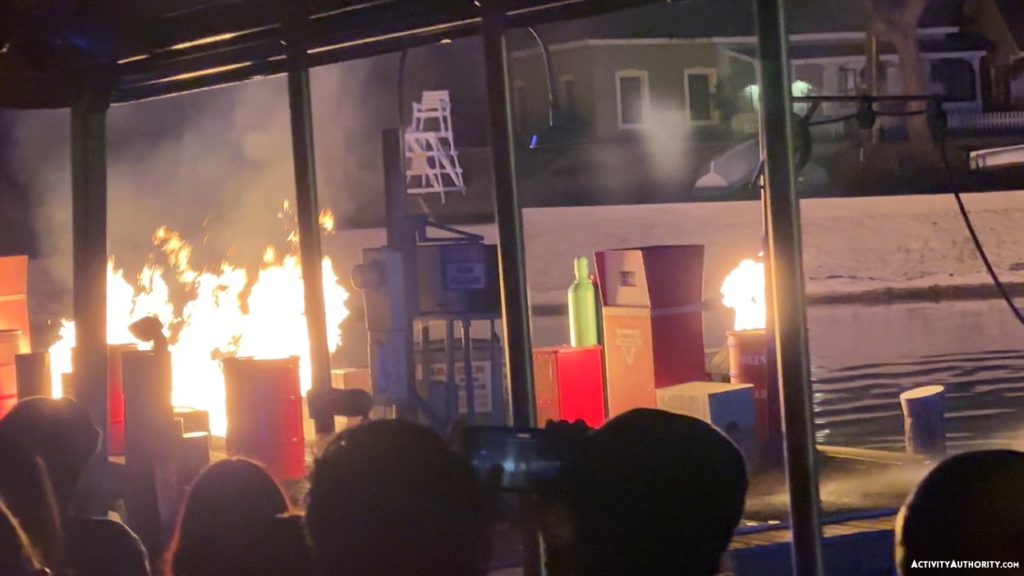 If I'd known that nighttime and back row would be the way it was, I would have not gone or waited for better seats for the world-famous studio tour. They really need to make the trams 3-4 cars shorter and just have more trams. On another note, if you want to see JAWS, be on the right side. We didn't see him at all…
Learning about the history of Univeral City was eye opening. Such a massive property on hundreds of acres! There's good reason it's deemed the Entertainment Capital of So Cal.
Kung Fu Panda Adventure
This is classified as a ride, but it's really a show. With Express Pass, this was one of the longest waits we had. At one point, everyone is put into a waiting room, which is where I attribute the cold I came down with. Everyone was jammed together watching a sort of pre-show experience. Could have done without that.
The show was fun, and the moving chairs and movie were fun. The kids were disappointed it wasn't longer. I loved how the movie begins to surround you. Again, they spritz you with water. I feel like most rides did this. Here's a little more about it.
Kung Fu Panda: The Emperor's Quest, the first Virtual Line experience available exclusively at Universal Studios Hollywood, is a must-see show for all Kung Fu Panda fans. Guests step into the world of Kung Fu Panda and join Po and his fellow kung fu masters in an exciting martial arts adventure! This action-packed show features breathtaking stunts, powerful fight sequences, and special effects that come to life right before your eyes. From Po's signature "wuxi finger hold" to Tigress' supercharged kick moves, each move is seamlessly choreographed by master stunt performers who bring the animated characters to life on stage. With dynamic projections and audio technology that captures every punch and kick with amazing clarity, guests will find themselves immersed in the thrilling world of Kung Fu Panda like never before. As Po finds himself in a race against time to save China from destruction, each scene builds up to a climactic finale that celebrates the strength of friendship and family. After this epic battle, guests can take home exclusive Kung Fu Panda souvenirs from nearby shops for lasting memories of their time at Universal Studios Hollywood.
Three Broomsticks and Hogs Head
We headed back to the wizarding world of Harry Potter land for some dinner. Now that it was nighttime, it had a completely different feel. LOVE THIS PLACE! We ate at the restaurant with an attached pub, and the waits were about as long as Mel's. Somehow I didn't mind as since we grabbed a table while taking turns waiting.
The ambiance and attention to detail inside and outside were impressive! Really awesome. The food was really good too! Hearty, cold-weather vibes with real food. Highly recommend this spot! I half expected to see the real Harry Potter hanging out at the bar.
The Secret Life of Pets: Off the Leash
We then cruised over the Secret Life of Pets. Not knowing what to expect, we went through the line experience, thinking that was the whole thing. The line took longer than most, and I think they were ONLY letting Express Pass holders on. The actual ride was fun. It's geared toward little ones, so I would skip it if your kids are older. Here's a little more about this ride.
The Secret Life of Pets at Universal Studios Hollywood is a must-see experience for all visitors! Located in the heart of the city, this movie-inspired attraction offers an exciting opportunity to explore the world of Max and Duke, two lovable animated pets. Guests will be taken through a journey filled with thrilling rides, interactive shows, and attractions that bring the film to life like never before. From watching a show featuring music from the movie to taking pictures with their favorite characters, this attraction has something for everyone. Other experiences include exploring a replica of Max's home complete with furniture from the movie and taking part in carnival games inspired by scenes from the film. Plus, there's even a unique petting zoo with animals like rabbits, pigs, and chickens allowing guests to interact with real animals just like in the movies. With so much to do and see, The Secret Life of Pets at Universal Studios Hollywood is sure to be an unforgettable experience that family and friends of all ages will enjoy!

Grinchmas Show
We had some hot chocolate and churros to watch the Grinchmas show (obviously seasonal). We didn't get there early enough, so we stood on the side and still had a good view. The show was fun and cute, and the makeup on the characters was OUTSTANDING! The whole Whoville experience is wonderful and especially good for the little ones.
Universal Studios Hollywood is home to one of the most beloved holiday traditions, Grinchmas! Experience Whoville and all its hap-haphazardness during this whimsical celebration that features a live performance of Dr. Seuss's classic "How the Grinch Stole Christmas." Enjoy the music, comedy, and story-telling during this heartwarming show, as well as a visit from The Grinch himself! Get your hands on festive souvenirs such as snow globes and t-shirts emblazoned with "Grinchmas at Universal Studios Hollywood." Guests can also get their picture taken with the green one himself! Don't forget to ready your cameras for more fun photo ops with the Whos of Whoville – Cindy Lou Who, Mayor Augustus May Who, Max, and other friendly characters. With plenty of entertainment, activities, and food options available, Grinchmas is sure to brighten up any family's holiday season even if it does come from a grumpy old Grinch. Make sure you wear something festive so you can join in on the singing along with The Whos! To top off your unforgettable experience, visitors should take part in the 'Holiday Sing-A-Long Spectacular' – an interactive parade featuring some of your favorite Seussical characters dancing along to classic holiday tunes. So come one and come all to Grinchmas at Universal Studios Hollywood – where joyous laughter reigns supreme!

Even though we stayed till 10 am (closing time), had express passes, and had a full 12 hours at the park, we didn't get to do everything. I think the VIP experience would be worthwhile on a slow day if they have them. Along with exploring Universal Citywalk, here are a few things we missed and regret:
WaterWorld: This Academy Award-winning stunt show (no, not the movie) is full of daring stunts, spectacular pyrotechnics, huge explosions, and death-defying acts by the incredible cast. Guests can watch as a battle between the evil Deacon regime and the heroic Mariner tribe unfolds before their eyes – all while sitting on edge wondering who will prevail!
Despicable Me Minion Mayhem: Join Gru and his mischievous minions on Despicable Me Minion Mayhem! After being transformed into minions themselves, guests join in this hilarious journey that combines outrageous physical humor along with hilarious antics from Gru's beloved Minions. It's sure to be a blast for kids of all ages!

Being a movie-making geek, Universal Studios Hollywood is an entertainment mecca for me. From blockbuster, thrill rides to shows that light up the night, there's something for everyone, and I would recommend going. Just make sure to do some research and plan your trip, especially if it's as packed as it was for us!