Going to Lanai?
The Essential Checklist for Visiting Lanai

Rustic Hawaii might be a thing of myth for modern travelers, given the tremendous expansion the Aloha State has seen in the last three-plus decades.
But ferry on over to Lanai—literally—and you'll get a glimpse of what Hawaii was like before widespread gentrification: There are no traffic lights on this gorgeous island, a single gas station (and a single poke shop) caters to its 3,102 residents, and shopping is largely reserved for trips to neighboring Maui. And while Oracle CEO Larry Ellison may own 98% of the island, its eighteen miles of rugged beauty can be relished by kamaʻaina and visitors alike. Visiting Lanai should be highly considered on your next Maui vacation.
Keen on seeing its golden-sanded beaches—or its stunning red-lava cliffs?  Bust out your pen and paper because here's the ultimate checklist for visiting the Pineapple Isle:
1 – Book ferry tickets
Lanai is a hop, skip, and jump away from Maui—as in about 9 miles due west. And while Lanai does have an airport (albeit a tiny one), most visitors come in by way of Lahaina on the Valley Isle. Ferry trips start first thing in the morning and go until early evening; Expeditions—which offers indoor and outdoor seating—offers economical fares. The ride is a breeze—roughly 45 minutes—and the vistas you'll see of the Pacific, the Lanai coast, and the West Maui Mountains make the journey a total treat.  The trip is a little longer than the 9-mile distance because Manele Small Boat Harbor is on the other side, making your total trip usually around 16 miles.
Bonus tips: Purchase and pack a disposable cooler (or borrow one from your hotel) while you're on Maui: The only places to eat along the coast are within the Four Seasons Resort Lanai (read: spendy) and you'll inevitably want snacks and drinks on your rides to fro— and at the beach. This brings us to our next point:

2 – Slather on some sunscreen
One of Lanai's biggest draws is the incredible serenity it offers. And while Hulopoʻe Bay may be the island's buzziest cove—it rests to the left of the Four Seasons Resort Lanai—tranquility is found on this beach in spades.
Crescent-shaped and comprised of glittery-white sand, swimming and snorkeling here is nothing short of spectacular—thanks in part to the fact that the bay is a protected marine district.
Aside from slathering on that sunscreen, bring fins and a mask and paddle out between the beach's eastern point and its middle stretch (where the reef, being the most developed here, is flush with peacock groupers, parrotfish, slate pencil urchins, white mouth morays, saddle wrasse, yellow tang, humuhumunukunukuapuaʻa—and brilliant, acrobatic spinner dolphins).
Happen to be a landlubber? Some of the most exquisite tide pools in Hawaii are located on the beach's southern end, where sea stars, spaghetti worms, and opihi (a tasty limpet) can be seen alongside hermit crabs and sea cucumbers.
Bonus tips: Hulopoʻe Bay is equipped with showers, restrooms, picnic tables, grills, and a well-kept lawn (for more on this area, see #10). Your best bet is to bring snorkel gear from Maui. And pack a hat for the sunshine: Temps here hover in the 80s and Lanai is notorious for being dryer than the other major islands in Hawaii.

3 – Prepare to be captivated
Google-image Lanai and chances are one of the most prominent shots will be of a large rock standing tall and proud just off the island's serrated coast. Ascending eighty feet into the wide blue sky, Puʻu Pehe—commonly known as Sweetheart Rock—is one of the Pineapple Isle's most legendary spots.
Truly: Ancient Hawaiian myths tell of a Maui princess named Pehe who took the breath away from Makakehau, a young warrior from Lanai. So smitten was Makakehau that he banished her to a sea cave off his island's southern coast. Drastic weather caused the princess's death, and in his sorrow, the warrior buried her on Sweetheart Rock before leaping to his own end.
While the fable may be macabre, the rock is anything but—a tad melancholy in its beauty, yes, but also peaceful and extraordinary. Located 150 feet offshore between Hulopo'e and Manele (Sweetheart Rock was once part of the main island), it's an exceptional place to watch the sun disappear beyond the horizon.
Bonus tips: To reach Puu Pehe, take a short, fifteen to twenty-minute jaunt past the tide pools on Hulopoʻe Beach (a path up the embankment will guide you). And have your camera ready to go: the ruby-tinged cliffs and glistening blue water inspire the urge for posterity.

4 – Groom your inner tourist
Business and commerce may be low-key on Lanai, but its eponymous city serves as the hub for both. Deemed one of the 11 most endangered sites in the United States in 2009, the small town—comprised primarily of residences, churches, and businesses—has been saved from modernization. Ellison has played a role in retaining the enclave's distinctive appearance by preserving its historic structures. "All of the stores, all of the original buildings in the Dole Park square built between about 1924 and 1955, have been restored in their fronts, appearance, and approach so that they look as they did when they were originally built, but are no longer falling apart," says Kepā Maly, senior vice president of culture and historic preservation at Pūlama Lānaʻi. "Every community needs to have some type of economic driver. The foundation of that driver on Lāna'i is our stories, our sense of place. The look of Lānaʻi City is part of that unique attribute."
In other words, the opportunity to see this plantation town shouldn't be missed. Lined by Cook pines and devoid of shopping malls, fast-food restaurants, and big-box retailers, this hamlet has low-key restaurants, inviting boutiques, and the Lanai Art Center, where you can explore exhibits from international and island-based artists, watch a cultural event, or learn to make a lei. The town centers around Dole Park, a grassy, community fave that serves as a living tribute to Lanai's history as one of the biggest exporters of pineapple on the planet.
Bonus tips: Bring a sweater or light jacket: While Lanai's coastline is hot and dry, Lanai City—which sits at an elevation of 1,700 feet—frequently dips into the low 70s. And save your fancier threads for Maui or an evening out at one of the Pineapple Isle's resorts: Lanai is filled with red dirt that can easily transfer to your clothes.

5 – Reserve a Jeep
Public transportation on Lanai is furnished by the two large hotels that serve as its primary means of lodging: the Four Seasons Resort Lanai (formerly Four Seasons Manele Bay, which, in its new iteration, was named one of the best hotels in Hawaii by Condé Naste Traveler) and The Lodge at Koele (also a Four Seasons resort). Clean, timely, air-conditioned vans will transport you and your gang to Lanai City or one of the Four Seasons locations. Interested in doing some major exploring? You'll have to rent a Jeep or other 4WD, as many of the roads on the island are rough and rocky. (Just know that prices for rentals run high and gas goes at a premium.)
Your first stop? Kaunolu Village. A former fishing village on the southern coast of the island, this place is an archeologist's paradise. As the largest surviving ruins of a village in Hawaii, traces of huts where fishermen lived as far back as the 14th century can be seen near the remnants of Halulu heiau (a sacred temple). Petroglyphs, graves, detached pens, and stone terraces are also found in this once-cherished spot of King Kamehameha the Great, who fled here after defeating Maui, Lanai, and Molokai. A short jaunt will take you to Kahekili's Leap—an 80-foot dive into a pool of water that was once used by warriors eager to prove their loyalty to the King of Hawaii.
Bonus tips: Prefer to reduce your carbon imprint? Rent a bike: It's a blast cruising around the island. As for getting to the National Historic Landmark that is Kaunolu Village: You'll need that 4WD you just rented—the journey, which is roughly 45 minutes from Lanai City, is dusty, dry, and jolting. Once there, an interpretative trail will take you and your crew through the ruins.

6 – Queue up Pink Floyd
…to drive through Keahiakawelo, that is.
Today, Lanai might be a luxury retreat complete with heated pools and room service. But its raw past—and equally raw present—is vividly revealed at Keahiakawelo. Located on the northwest edge of the island, this barren, surreal region calls up visions of the moon: One inimitable rock formation after the next covers the ground for miles, giving way to a haunting lunar landscape and giving rise to its nickname as the Garden of the Gods. Keep your eyes peeled for wildlife: mouflon sheep and deer are often seen traipsing around the boulders.
Bonus tips: At the end of the unpaved road (or thirty minutes away from the Garden of the Gods), you'll reach Polihua Beach, a two-mile expanse of sand that's choice for chilling in the sun, combing for shells, and spotting honu. The current here, however, can be rough; enjoy your time in the water at Hulopo'e instead.

7 – Bring along your binoculars
Lanai may boast 47 miles of uber-intriguing coastline, but Shipwreck Beach might be its most beguiling region: An eight-mile stretch filled with flotsam and jetsam that looks out upon a wrecked Navy ship bobbing hauntingly just offshore. Otherwise known as Kaiolohia, a trail at this windswept cove leads inland to the Kukui Point petroglyphs; reddish-brown boulders (and a simple "Do Not Deface" sign) will guide you.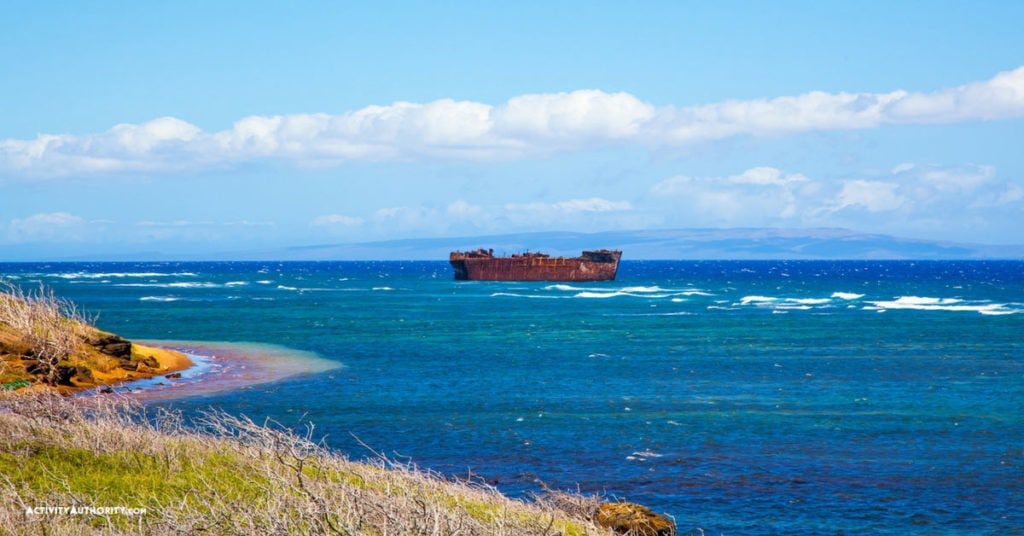 Bonus tips: The trade winds at this wild spot can feel like downright gales, and the currents here are often dangerous. But the non-manmade finds you'll discover by walking the beach include some of nature's most fascinating marvels, including sea slug shells, leopard cones, and violet snails, while during Humpback season you might spot a whale tail breaching in the channel. The road here is mostly paved, but, again, that 4WD will come in mighty handy. And park well before you hit the actual beach: The last thing you'll want is to get those tires stuck in the sand.

8 – Toss some hiking boots into your tote
Feeling adventurous? Lace-up those hiking boots or sneaks and head to Munro Trail. Located north of Lanai City, and named after George Campbell Munro—a New Zealand ornithologist, conservationist, and botanist—this 12.8-mile trek boasts stunning views of the Pineapple Isle. The peak of the trail, Lanaihale, sits at 3,370 feet and looks down upon the Maunalei Gulch and the neighboring islands—to say nothing of the magnificent Cook pines introduced by Munro when he arrived in 1890.
Bonus tips: Those who prefer to keep their flip-flops on can drive to the top of Lanai, while bikers will have the time of their life on the secluded, one-way road. Sans car, however, this is no quick and easy adventure—it'll take up a large part of your day (and, perhaps, your whole Pineapple Isle stay). Should you choose to go for it, set out in the early morning before the fog and clouds arrive with the trades.

9 – Pack your appetite
Tucked into the Four Seasons Resort Lanai, Lanai's rendition of Nobu lives up to its international acclaim with an omakase tasting menu that highlights the island's bounty, such as yellowtail sushi with jalapeno and garden greens with Yuzu dressing. But it's the sweeping views that'll steal your heart, stretching out over Lanai's unique lava outcroppings. Also located within the resort is The Sports Bar & Grill, a laidback but nonetheless elegant venue that offers hearty fare like chicken Cobb salads and grilled Kalbi ribs. Meanwhile, more ocean views abound at One Forty, where you can dive into a plate of Brioche French toast in the morning or arrive in the later hours of the day for Wagyu beef and seared scallops with black truffle essence. Determined to keep your toes in the water as you dine on a plate of papaya? Mosey into Malibu Farm (which, by the way, has sensational Bloody Marys). 100% Kona Peaberry is served super-hot at Kope, while Blue Ginger Café dishes out ono loco mocos and bowls of fried saimin. Hoping to see some local talent? Book at a table at Lanai City Grille, which features live music, terrific venison, a koa wood bar, and a fabulous patio.
Bonus tips: Don't think your dining options are exclusively reserved for big spenders: Lanai City boasts a handful of spots to fit every budget. In addition to the aforementioned Blue Ginger Café, you'll also find Café 565—which offers burgers, pizzas, sandwiches, and chicken katsu platters—Coffee Works (which has damn-fine bagels and lox), and plate lunches at the local fave, No Ka Oi Grindz. Essentials (and so much more) can be purchased at Richard's Market (which recently got a major overhaul), while some of the freshest, most sumptuous poke in Hawaii sells out fast at Lanai 'Ohana Poke Market.

10 – Keep those watch batteries—or that smartphone—charged
The last ferry out of Lanai is at 6:45 pm, rendering it your final chance (at least via boat) to return to the Valley Isle. Happen to miss it? Don't despair: While it may be difficult to book a last-minute room at one of the Four Seasons, Dreams Come True—a plantation-style bed and breakfast in Lanai City—offers a complimentary brunch and lovely landscaping filled with tropical flowers. Or plan your overnight Pineapple Isle adventure in advance by booking a room at the historic Hotel Lanai, a charming, airy inn that features 11 comfy rooms and tons of aloha.
Bonus tips: Wanderlusters, nature lovers, and babes on a budget will be thrilled with camping at Hulopoʻe Beach Park, where eight camping spots—each of which can accommodate up to five people—are set right on the water. Park permits (at a nominal fee) can be acquired through the County of Maui or by calling (808)-565-6979.