Molokini Crater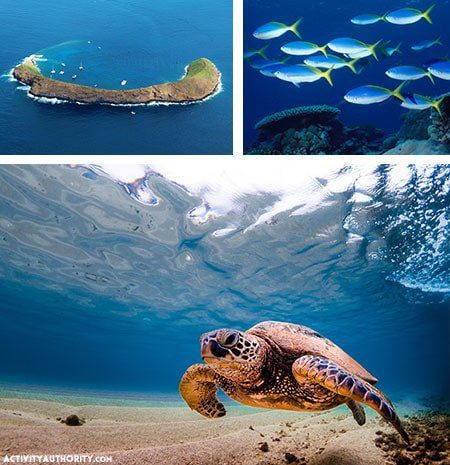 Located approximately 2.5 miles off of Maui's south shore, Molokini Crater is one of the top snorkeling destinations in all of Hawaii. For visitors interested in seeing Maui's most unique marine life, as well as enjoying amazing underwater clarity, there is no better spot to enjoy the wonders of the Pacific.
Formed by a volcanic eruption approximately 230,000 years ago, Molokini Crater also plays an important part in Hawaiian legend. A female moʻo, or guardian lizard, once fell in love with a Maui Chief, Lohiau. Unfortunately for her, Pele, the much-feared Goddess of Fire & Volcanoes, was also in love with him and cut the female in two. The head became Puʻu Olai, the cinder cone found on the north end of Makena State Park, while the tail became Molokini Crater.
Once a prominent fishing ground for ancient Hawaiians, Molokini was more recently used for bombing practice by the U.S. military during WWII. Evidence of this can still be seen today, with shell casings found on both land and underwater. After receiving subsequent negative attention from black coral divers, Molokini Crater was named a Marine Life Conservation District and Bird Sanctuary in 1977.
Today, its protected status, abundant marine life, high visibility, and calm conditions within the crater walls allow for excellent snorkeling conditions, attracting more than 400,000 visitors per year.