One of the best and easiest ways to delight a lover of Maui is to get them a gift certificate for something fun.  Below we've listed some awesome gift certificates that will save you shopping time!
Grand Wailea Luau Gift Certificates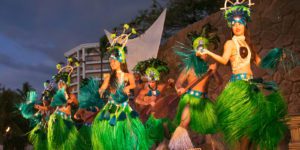 An excellent luau option in South Maui, The Grand Wailea Luau focuses on Hawaii's history and legends, including the voyages of La'amaikahiki and Moikeha to the area known as Honua'ula, as well as Pele, the Goddess of Fire & Volcanoes, Lilinoie, the Goddess of the Mist, and the mermaid of Maui, Kananaka, among others. Enjoy a delicious meal, and pre-show activities like Hawaiian lawn games, hula lessons, temporary tattoos, photos with the cast members and more. This relaxed, family-friendly luau is great for those staying near the golden shores of this beautiful area of Maui.

Redline Rafting Gift Certificates
For travelers looking to explore the ocean during their time on Maui, we highly recommend an exciting snorkeling trip with Redline Rafting. Maxing out at 24 guests, this intimate experience takes place aboard one of their customized rafts! While not recommended for anyone with back or neck problems due to its faster speeds (and therefore bumpier ride), it's an absolute blast for guests eager to see the beauty of Maui from above and below the ocean's surface.
Tours include snorkeling at 3 to 4 of South Maui's best spots, as well as information about Hawaii's history, geology, and marine life, and breakfast and lunch.

Pacific Whale Gift Certificates
Take advantage of this company's many decades of whale watching tour experience, and climb aboard a spacious double-decker catamaran. Departing from Lahaina Harbor as well as Maalaea Harbor, these whale watch tours offer guaranteed whale sightings in season. They also have snorkeling trips to Molokini Crater and sailing trips Honolua Bay.
Giving a Pacific Whale Foundation gift certificate allows the recipient so many options when they come to Maui!
Maui Ocean Center 1-Week Journey Pass
Whether the weather isn't cooperating for an afternoon on the beach or you're simply seeking a fun, family-friendly, educational experience for everyone in your group, a visit to the Maui Ocean Center is a must do. Named one of the Top 25 Best Aquariums in the U.S., guests will be intrigued by the variety of local marine life, talks from local marine naturalists and experts, weekly events, and even a scuba diving experience with sharks in the 750,000 gallon Open Ocean Exhibit. Learn more about Hawaii's endemic marine life at this centrally located Maui visitor staple.
Ultimate Air Gift Card
Those of us on Maui with kids have all been obsessed with this place. It's great exercise, super fun, and gets all that energy out of our keiki. Perfect for those not-so-good beach days, or any day that you have time to kill in between checking out of your hotel and checking in for your return flight. Or, do it like we do and go anytime you feel like you need a bounce (or some time in the massage chair while your kids partake.) And for the surfers, skaters, and snowboarders, they also have small boards you can strap on to practice your aerial maneuvers.