The Top 5 Road to Hana Tours
A serpentine route that parallels one of the most spectacular coastlines in the world. Waterfalls galore. Plunging freshwater pools. Beaches comprised of black sand, gray sand, white sand, and even red. Tropical rainforests; radical seascapes.
Is it any wonder why the Road to Hana is considered a leading attraction not just on Maui but also on Earth?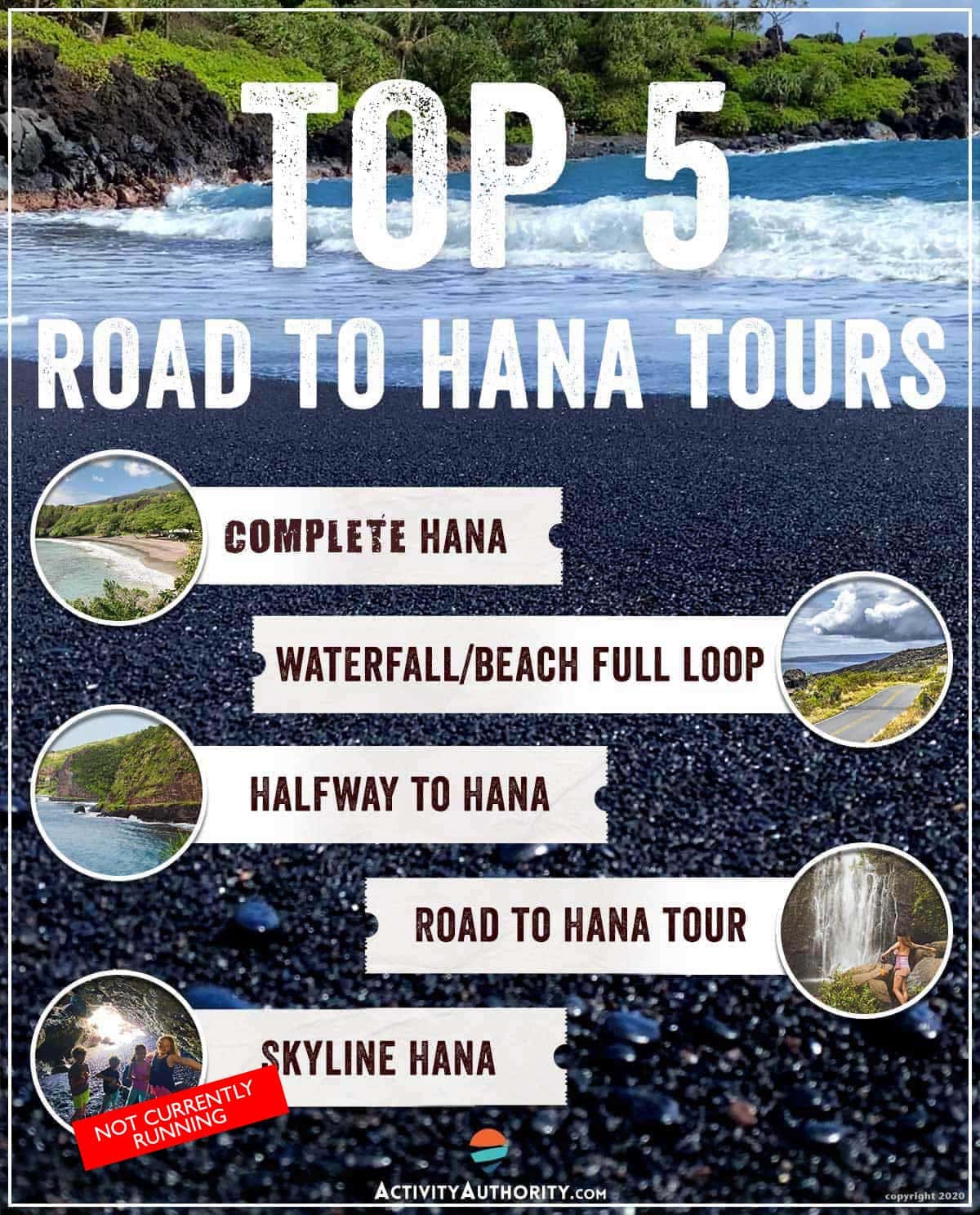 Not at all. And yet, for those who choose to eschew a self-driven exploration of Maui's remote eastern coast, the question becomes which tour they should select. With this in mind, we've pulled together our top 5 picks for the best Road to Hana tours—and given you a rundown of each option.

This 9.5-hour Complete Hana Tour takes the stress out of navigating the 64.4-mile route to Hana—a trek that, while endlessly stunning, includes hairpin turns and the need to pay careful, constant attention to the road. On this tour—as well as the others included here—you'll be able to sit back, relax, and absorb the copious beauty all around you, from acres of land teeming with lush crops to waterfalls crashing from killer heights. Along the way, you'll stop at a number of the Road to Hana's greatest highlights. Chief among them? Waianapanapa State Park—a 122-acre oasis that boasts a hala forest, a natural sea arch, blowholes, and an underwater grotto steeped in ancient myths—and the largest perennial stream on Maui, Palikea. Frequently praised for their fun, an informative team of guides, your Complete Hana Tour provides entertainment and education in equal measure.
Know Before You Go:
No need to pack eats and drinks: Complete Hana Tours include a "bento" breakfast (such as scrambled eggs, crispy bacon, and Hapa rice) and a picnic lunch. Bonus points: Vegetarian and gluten-free options are also offered.
Consider yourself an early riser? Good! The Complete Hana Tour starts at 7 am (with hotel pick-up offered between 7 am-8:15 am).
Given the range of spots at which you'll be stopping, wear appropriate footwear—and dress for adventure.

Hana Waterfall & Beach Full Loop Tour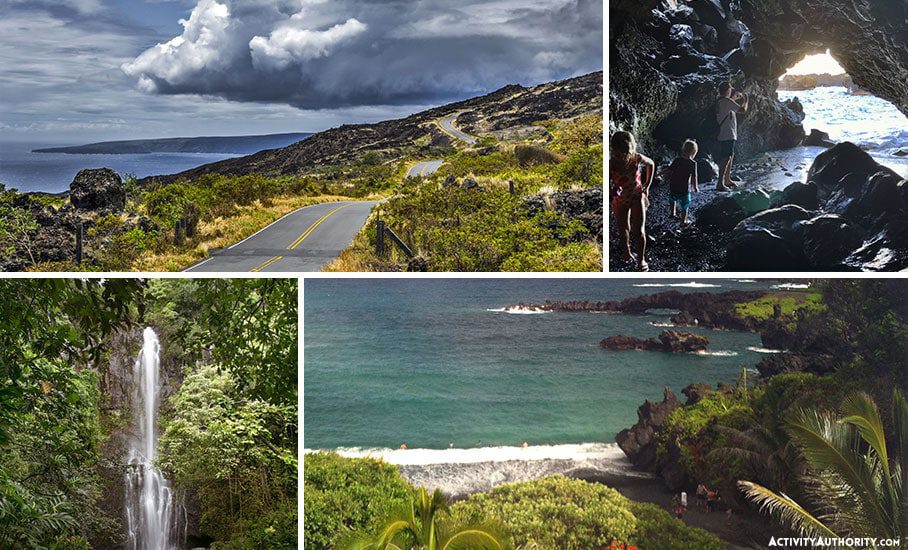 Few trips journey into the real heart of Hawaii like the Road to Hana—especially when you're on board with the Hana Waterfall & Beach Full Loop Tour. This 8-12-hour expedition has several factors that make it stand out from the rest. First off? This Tour is the brainchild of Kellen Ferguson, who was born and raised on Maui and knows the island like the back of his hand. His deep knowledge of the land informs his tours, which brim with an insider's insights—and stops at special spots that other tour companies typically drive past. What's more, each of these Local Maui tours' journeys is custom-designed, allowing you to set the pace and determine the action (with weather and safety considerations in mind, of course). With options ranging from tours of lava tubes, ocean blowholes, and ancient lava formations to hikes that'll take you to some of Maui's most astonishing waterfalls, you're bound to settle on an itinerary that will leave you more than satisfied. Further, while most rental companies disallow vehicles to travel to Maui's "backside"—the barren and beautiful swath of land between Hana and Kula, which includes blind curves and washboard sections—the Hana Waterfall & Beach Full Loop Tour provides guests with the chance to do so (and safely at that). This will bring you into close contact with a stretch of Maui few see—and a glimpse into old Hawaii.
Know Before You Go:
While these local tours do not supply meals, the Hana Waterfall & Beach Full Loop Tour allows you to sample some of East Maui's signature eats (from food trucks, roadside stands, and more), including Kalua pork tacos, plate lunch from Braddah Huts, Huli Huli Chicken, and melt-in-your-mouth homemade coconut ice cream. Meanwhile, freshly-baked banana bread—one to two loaves per crew—will be furnished by your friendly, knowledgeable guides.
Should you choose to do the full loop—and if time allows—you may be able to taste some of the delectable wines at Ulupalakua's Maui Wine.
Have small keiki on hand? Be sure to pack your own car seat.

Halfway to Hana Tour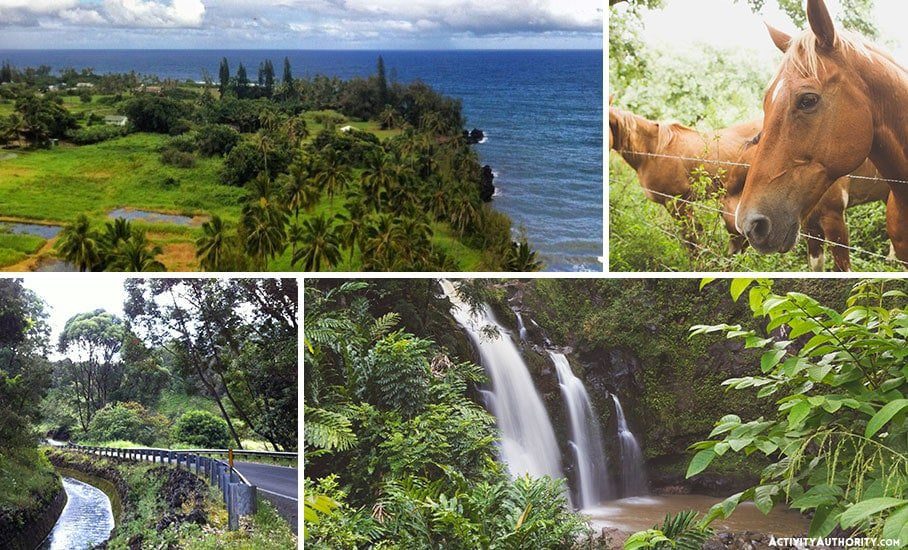 Unable to devote an entire day to seeing the island's secluded eastern coast? The Halfway to Hana Tour may be just the trip for you. Roughly 6 – 7 hours in length, this trip may be abbreviated but it's still huge on spectacular activities. While the tour itinerary depends upon your wishes—as well as stream flow rate, water quality, and rainfall—some of the sights you may see include Honomanu Bay (an isolated beach located at the base of sea cliffs that ascend 7,000 feet into the sky) and Waikani Falls, a photogenic trio of cascades that are surrounded by Hana's iconic, verdant rainforest. What's more, the Halfway to Hana Tour caps off at seven guests, which gives you the chance to have an intimate, chill experience.
Know Before You Go:
While the Halfway to Hana Tour affords guests the chance to take moderate to strenuous hikes, there's no need to be a fitness buff: Again, each tour is custom-designed and can be tailored according to your and your group's athleticism.
That being said, be sure to pack water shoes and a swimsuit. The Road to Hana is synonymous with getting wet.

Skyline Hana Tour
Climate-controlled vehicles complete with raised seats, enormous viewing windows, and ample legroom render Skyline Hawaii's Road to Hana Tour one of the laxest—and most comfortable—on the island. Their NAI-certified guides provide ongoing, intriguing narration of the flora, fauna, and historical posts you'll pass, while each tour encourages its guests to jump into the water to refresh (when the weather is safe, of course). Storied Hana Bay and Pua'a Ka'a State Park—which presents a waterfall and a freshwater pool—and are just a few of the spots you'll savor on this one-of-a-kind trip.
Know Before You Go:
Skyline Hawaii stops at Jaws Country Store in Peahi for breakfast; here you'll find wholesome eats ranging from buttery avocado toast with Haiku tomatoes to organic egg omelets. Lunch, meanwhile, is provided by health-conscious (and delish) Hana Fresh. Skyline Hawaii also provides guests with complimentary juice and water throughout the trip.
Nervous about the risks of the Road to Hana? Skyline Hawaii's drivers navigate the narrow route nearly daily and are incredibly familiar with the road and its conditions.
Afraid of motion sickness? Skyline Hawaii's comfy, air-conditioned vehicles, as well as the frequent stops the tour makes, may alleviate any carsickness you experience.

This Road to Hana Tour is currently not running.

  We'll update when/if they get going again.

Road to Hana Tour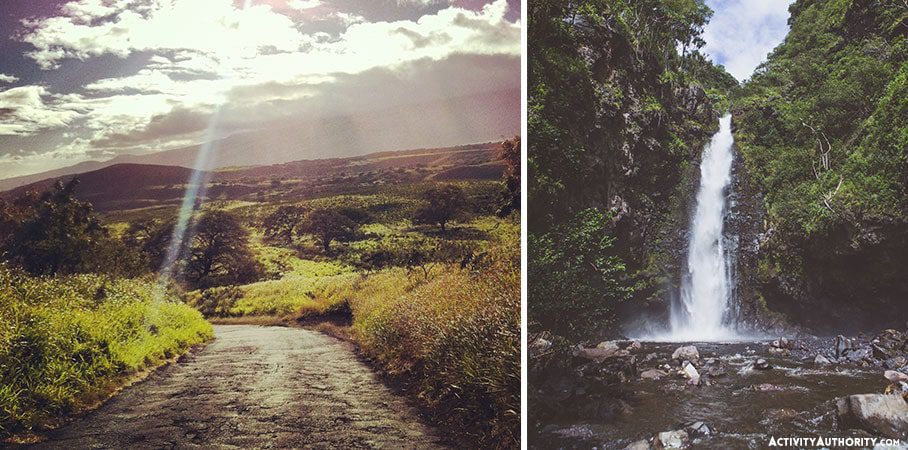 Valley Isle Excursions has been steadily building a notable reputation since its inception in 1998. Such experience lends itself well to providing you and your crew with a terrific Hana experience, complete with local guides who are as eager to share their knowledge of Maui as they are to welcome you into their "ohana." Each of their custom cruisers features elevated seats that make looking over guardrails a cinch; they also supply large viewing windows and a surplus of legroom. Additionally, these cruisers fit no more than 12 passengers, which grants you both camaraderie and quiet. Along the way, you'll stop at a variety of exquisite places, while the pinnacle of your trip may very well be Oheo Gulch—a wondrous, unforgettable place comprised of tiered waterfalls that flow into the ocean.
Know Before You Go:
Valley Isle Excursions' Road to Hana Tour includes a light, continental breakfast, a picnic lunch, and all-you-can-drink nonalcoholic beverages.
Planning an overnighter in Hana? Opt to drive yourself. Valley Isle Excursions does not offer drop-off/pick-up options.
Valley Isle Excursions offers a journey through Maui's "backside"—that aforementioned swath of extraordinary land that's mostly gone unspoiled. (Do note, however, that this terrain is only traveled when weather and safety conditions allow.) Whether or not you see this part of the island—and no matter which tour you use—do know that your Hana excursion is bound to linger with you for life.
Still can't decide?
Get more in-depth information about the Road to Hana.