Step foot in Hawaii, and it's possible you'll join the legions of people who consider the Aloha State one of the most healing and spiritual spots in the world. However, with all the spiritual presence, Hawaii ghost stories are easily born.
From the presence of an 'aumakua (familial guardians or ancestors) in a pueo (short-eared owl) gliding by to the venerated heiau (ancient Hawaiian temple or sacred site) lining the islands, Hawaii is a deeply mystical place steeped in ancient-old myths.
A large part of its fascinating past rests in the ghost stories that circle the island's people. Step in a different direction: down into the phantom tales that have unquestionably shaped much of Hawaii's charisma.

Hawaii Ghost Stories – The White Lady
Not to be confused with the White Lady of medieval myth – or the crème de menthe cocktail that was invented in1919 – Hawaii's White Lady is an unnerving interpretation of the Goddess of Fire's omnipresence.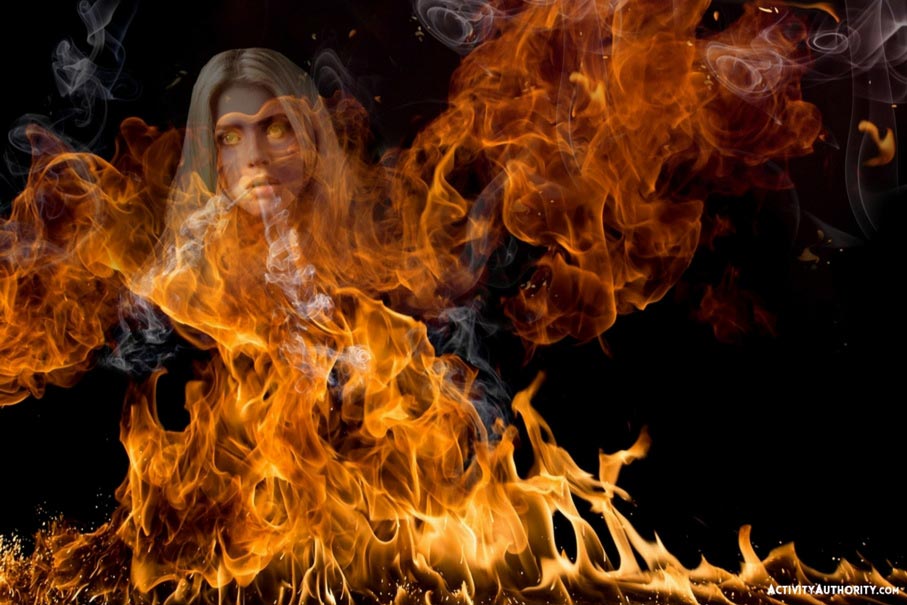 While Pele assumes a myriad of forms, she is perhaps best known – and most feared – for taking on the shape of a woman with long white hair, both elderly and young, and both disheveled and polished. Roaming from island to island, rumor has it she has a proclivity for hitchhiking and cigarettes, the latter of which she can light with a mere snap of her fingers. Sometimes spotted with a small white dog, she's been known to hop into the bed of a pickup or the back of a car only to disappear at a stop or after a bend in the road. Others have reported seeing her dancing in red at the foot of volcanoes. Believed to ask for favors to test the kindness of strangers, failing to pick up the White Lady – or neglecting to treat her with aloha – results in catastrophe and heartache. In other words, give the platinum blonde a ride, offer her a smoke, and forget about carrying around a box of matches.

Hawaii Ghost Stories – Night Marchers
Residents of Makena and those traveling through Kahakuloa at specific times, not to mention certain nights at the battle-scarred Nuʻuanu Pali Lookout on Oahu, might be quick to relay their experiences with the notorious Night Marchers – but not without first giving a quick shiver.
Otherwise known as huakaʻi po, Night Marchers are considered to be the apparitions of ancient Hawaiian warriors. With echoing steps often accompanied by the thunderous pounding of drums, they've been known to follow the lunar schedule. While some recount sightings of the procession hovering above the ground, they're decidedly a worldly battalion – leaving footprints on the trails they traverse, carrying torches to illuminate their routes, chanting as they travel in rows, and sending waves crashing and plumes of mist in their wake. Listen for the blowing of the conch shell: Hawaiian historians presume the marchers are on ceremonial excursions, which are often celebrated by the sounding of the pu. Should you come across this phantom band, myth proclaims that one should strip naked and lie face down in their paths – and never, ever look at them. After all, these are the King's men appointed to shield the holiest chiefs from the common man.

Hawaii Ghost Stories – The Green Lady
She might not get as much ink as Pele's pale persona, but the Green Lady is alive and well inside – and perhaps out – of many an imagination.
Known to haunt the gulch in Wahiawa – a town that rests between two volcanoes on the island of Oahu – the scaled, foul-scented Green Lady has a dreadful story: long ago, one of her keiki got lost in the gorge only never to be found again. Heartbroken and bereft, she continues to lurk in the gulch (which literally means "place of noise"), emerging from the water encased in moss and dripping with leaves to prowl the botanical gardens and Wahiawa's elementary school – and snagging any child she crosses. But historians (ahem, ghostorians)beware: others claim the urban legend was invented to keep little kids from going across the gully alone.

Hawaii Ghost Stories – The Ghosts of USS Arizona
The bombing of Pearl Harbor left not only the world anguished and rattled: it also left behind restless souls known to haunt the Oahu waterfront.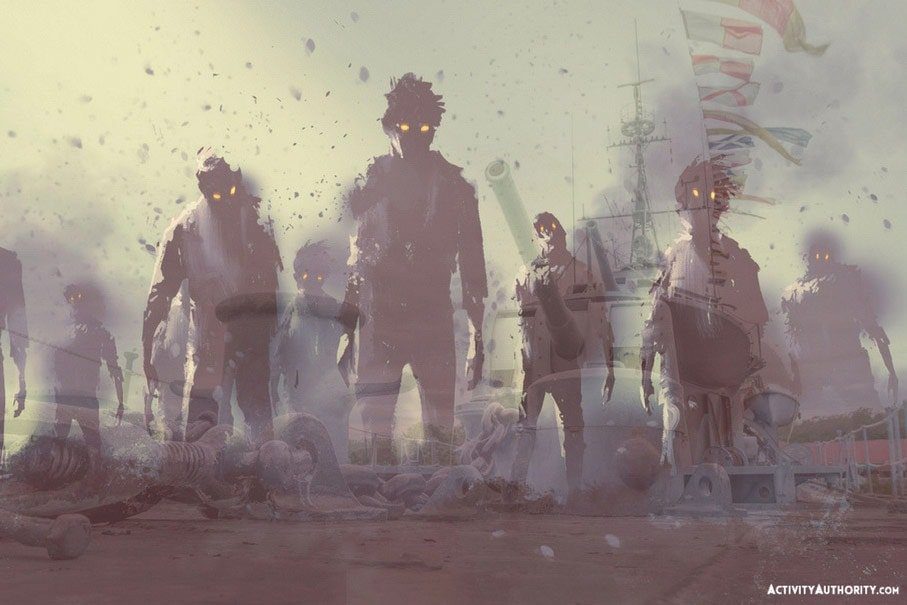 Attacked on December 7, 1941, the USS Arizona sunk when it was bombed, taking with it a record 1,177 crew members and rendering it the largest loss of life on any US war vessel. Following reparations in 1962, it now sits on the harbor as a tribute, and carries with it, for most visitors, a tremendous sense of desolation – with the lives that perished that tragic day supposedly still patrolling the area. The refurbished boat brims with eerie noises that range from disembodied voices to pacing footsteps, while an Australian woman in 2011 snapped a pic that resembles a ghostly figure suspended in water and crying out in agony. Uncanny, certainly, but also unsurprising: some of the soldiers' remains are thought to be kept on the USS Arizona.

Hawaii Ghost Stories – The Kasha of Kaimuki
This hip neighborhood in Honolulu was once home to King Kalakaua's ostriches; now, beyond its trendy bistros, it also boasts one of the creepiest houses in Hawaii.
Prior to his death, Hawaiian Herald tabloid writer Glen Grant was a booming voice and radio personality throughout the islands, once questioning the credibility of a ghost story on his live program only to have the witness – allegedly locked up and indisposed – call him to furnish him with details. Grant took particular interest in the Kaimuki House, a large home unwelcoming to visitors (to put it mildly), that many claim is ghosted by a man-eating ghoul. A terror ripped from the pages of Japanese folklore stories.
Its myth reaches back to 1942 when police arrived at the Kaimuki House amid complaints only to find a home full of children levitating, thrashing about the room, and smarting from invisible forces. Roughly thirty years later, a couple who had just moved in reported inexplicable drafts of chilly air and sightings of an armless woman missing her legs. Blame Kapu: some reports maintain the house witnessed a series of murders, including a male occupant who murdered his wife and two kids and buried them in the backyard. Interested property owners take note: the resident's phantoms will let you be if you leave out food and toss water through the windows as an offering.

Ghosts & Goblins on Front Street, Lahaina
Halloween in Lahaina, Maui, is a legendary and lively affair that has earned the reputation of being one of the biggest Halloween parties in Hawaii. Each year, thousands of locals and tourists flock to Front Street, the heart of Lahaina, to partake in the extravagant celebration. This event transforms the historic town into a vibrant and spooky spectacle, with businesses and residences adorned with elaborate decorations and haunting displays. The entire street becomes a pedestrian-only zone, allowing revelers to roam freely in their creative costumes, from traditional Hawaiian characters to classic ghouls and movie-inspired personas. Live music fills the air, and local food vendors line the streets, offering a delectable assortment of Hawaiian delicacies and festive treats. As the night unfolds, the party reaches its climax with a thrilling costume contest, where participants showcase their imaginative attire and compete for the title of "Best Costume."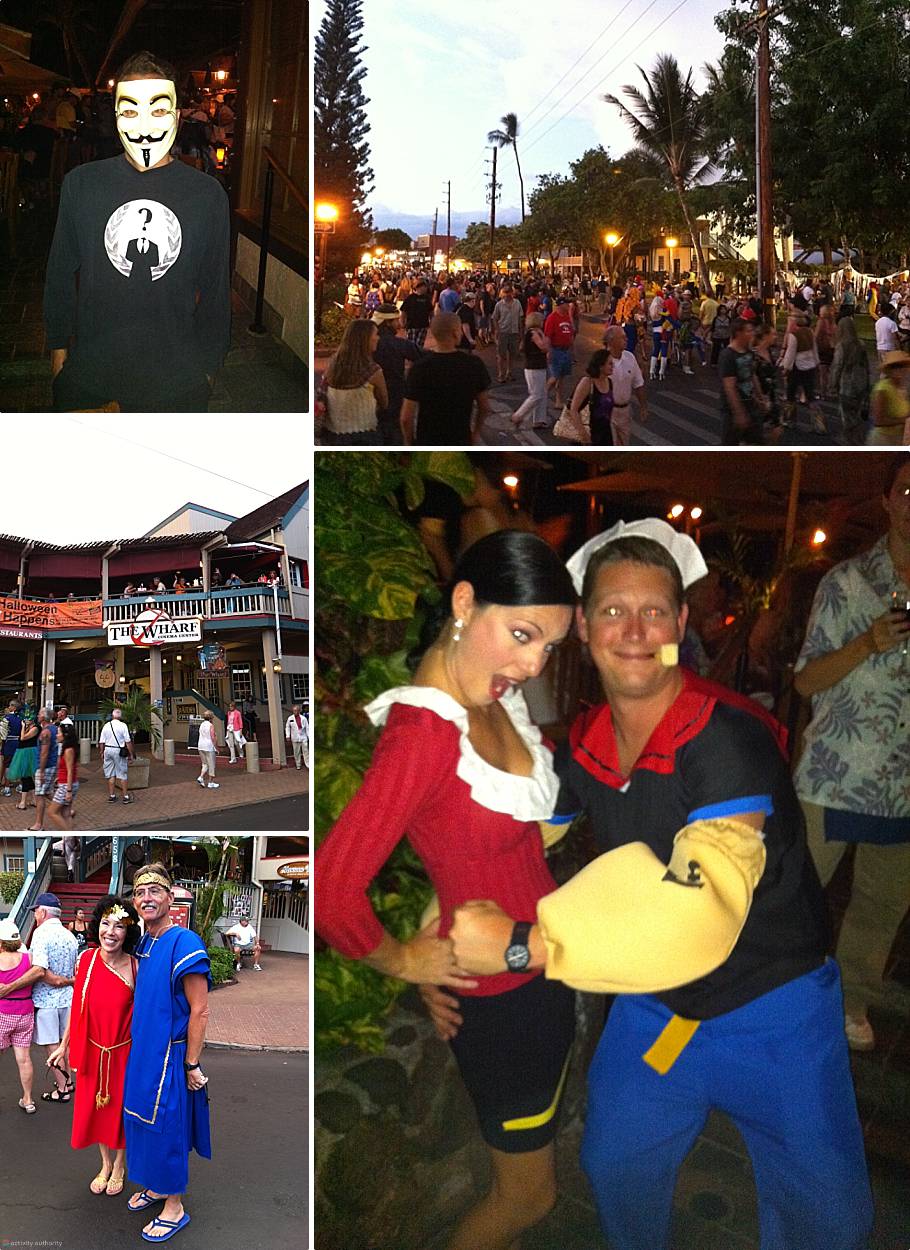 The Lahaina Halloween celebration has its roots in a rich history. Legend has it that spirits from ancient Hawaiian times, known as "menehune," once roamed the area, contributing to the town's eerie and mystical atmosphere. This ghostly folklore adds an extra layer of intrigue to the festivities as visitors immerse themselves in the island's folklore while enjoying the modern revelry. Beyond the revelry, Halloween in Lahaina is a time for the community to come together, fostering a sense of unity and camaraderie among locals and visitors alike. Whether it's admiring the creative costumes, joining in the dance and music, or simply soaking up the bewitching ambiance, Halloween in Lahaina is a truly magical experience that lingers in the hearts of those fortunate enough to witness it.