Whether you are young or graying, Maui's natural splendor appeals to all ages— and there are countless ways to enjoy it! From strolls through lavender fields to deep descents aboard a submarine, here are 12 Maui activities that everyone from seniors to toddlers can enjoy.

Sunset Cruise
There are many ways to enjoy a sunset on Maui, but the finest way is aboard an evening cruise. Sunset boat tours are plentiful on the Valley Isle, treating guests to tasty food and drinks, live music, and unparalleled island views. But for the best of the best, we recommend a trip aboard Kai Kanani— South Maui's only catamaran.
Kai Kanani's Maui sunset tour departs from the sand at Maluaka Beach, presenting stellar views of Molokini, Kahoʻolawe, and Haleakala. Guests can expect excellent service, three courses of plated appetizers, an open bar and sunset toast, live Hawaiian music, and a luxurious ride on a pristine 65-foot catamaran.

Atlantis Submarine
If your snorkeling days are behind you, you can still experience the beauty of Maui's coral reefs thanks to Atlantis Submarines. Atlantis descends over 100 feet to visit the Carthaginian— a ship that was intentionally sunk in 2005 to form an artificial reef. Today, the wreck is home to an array of marine life, from vibrant schools of tropical fish to predators like reef sharks. And since you're probably not a marine biologist, a helpful naturalist is onboard to explain the sea creatures you'll spot on the dive.
This excursion is a memorable, comfortable activity for seniors looking for a genuine underwater adventure— and it's possible without even getting your feet wet!

Take a leisurely drive with Maui Roadsters
Maui is a small island— it doesn't exactly scream "road trip destination". But the Valley Isle is home to some spectacular drives, from the switchbacking Road to Hana to the undulating hills of Upcountry. While the average rental car is more than capable of driving these roads, it's a heck of a lot cooler to cruise around in a 1957 Porsche Speedster. With the help of Maui Roadsters, you'll be behind the wheel of one of the most flashy cars on Maui.
Maui Roadsters boasts a fleet of four professional reproductions of 1957 Porsche 356 Speedster Convertibles. Whether you cruise to the jungle en route to Hana or mosey along Front Street in Lahaina, you'll be turning heads around the island.

Golf
If you like to hit the links back home, you're in luck— Maui is one of the best golf destinations in the United States. There are exceptional courses on nearly all sides of the island.
If you're up for a challenge, set your sights on the Plantation Course in Kapalua: dubbed the "Best Course in Hawaii" by Golfweek. It is also the site of the annual PGA Sentry Tournament of Champions. Alternatively, the Wailea Golf Club is home to three award-winning courses fit for a range of experience levels.

Maui Ocean Center
If you thought aquariums were just for kids, think again. Maui Ocean Center is fascinating for people of all ages. MOC is the largest aquarium in Hawaii, and it features exhibits ranging from tide pools to deep sea tanks with giant stingrays, monster uluas (trevallies), and sometimes, tiger sharks.
But the aquarium features more than just marine life. There are also Hawaiian culture displays, an entire exhibit dedicated to the history of the bombing of Kahoʻolawe, and a short 3D film about Hawaii's humpback whales. Plus, the center is walkable and air-conditioned, with plenty of great restaurant options nearby. The Maui Ocean Center is open from 9 am to 5 pm daily. Purchasing tickets in advance is highly recommended.
192 Maalaea Road, Wailuku.

Maui Wine
Located in the perpetually-green pastureland of Ulupalakua, Maui Wine is the perfect place to escape Maui's coastal heat— and indulge in some of the island's finest libations. The Upcountry winery offers wine tastings at the historic Rose Ranch Estate— once a sugar plantation and ranch that hosted lavish parties and welcomed some of Hawaii's most eminent royals.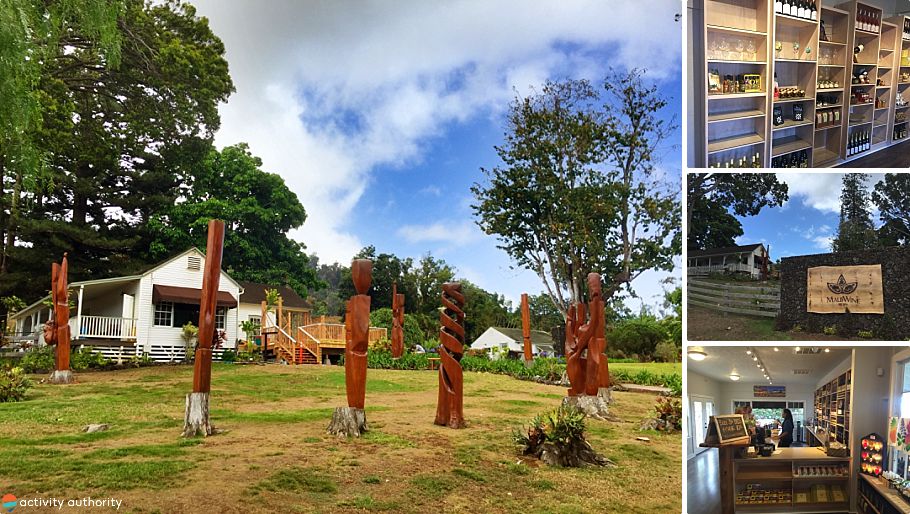 Today, Maui Wine annually produces roughly 25,000 cases of wine made from local pineapples, raspberries, and estate-grown grapes. In addition, it continues to uphold the Rose Ranch's tradition of hospitality by welcoming visitors with open arms. Maui Wine is open from 11 am to 5 pm, Tuesday to Sunday. Advanced reservations are highly recommended.
14815 Piilani Highway, Kula.

Lavender Farm
Agriculture on Maui might call to mind tropical crops like pineapples and sugarcane. Lavender? Not so much. But believe it or not, the Upcountry climate is optimal for growing lavender, and a 13-acre chunk of land in Kula is designated for just that. Aliʻi Kula Lavender Farm is home to 55,000 lavender plants spanning 20 different varieties. The farm also doubles as a botanical garden, with olive trees, proteas, and hydrangeas tucked alongside tidy rows of lavender.
After a thorough exploration (or self-guided tour), visit the gift shop stocked with lavender goodies— including delicious lavender scones, brownies, tea, and lemonade. Ali'i Kula Lavender is open Friday to Monday from 10 am to 4 pm. Entry is $3 per person ($1 off for Seniors, Military, & Kamaʻaina) or FREE with a canned good donation.
1100 Waipoli Road, Kula.

Spa Day
A trip to Maui is luxurious in itself, but for total rejuvenation, visit one of Maui's excellent spas. Spas abound on Maui, and many incorporate island-inspired ingredients and Hawaiian healing techniques, like Lomi Lomi massage. If you're staying at a resort, chances are that an opulent full-service spa is already at your fingertips.
Alternatively, there are some excellent, locally-owned spas with reasonable prices. We like Maui's Best Massage— they offer a range of treatments and have two locations in Kihei and Lahaina.

Luau
No trip to Hawaii would be complete without a visit to a Maui luau. While today's luaus aren't wholly "authentic" (with a mix of not only Hawaiian but Samoan, Tahitian, and other Polynesian dances, songs, and myths) they are a great way to get to know Hawaiian foods and experience some island traditions. Plus, they're a lot of fun.
You can expect top-notch Polynesian entertainment, fun activities, a Hawaiian feast fit for royalty, and, more often than not, an open bar. Luaus are held at stunning locations across the island, from Paia to Wailea to Kapalua.

Explore Front Street
Front Street is Maui's most walkable hub— there is a ton to do, see, and taste within just a few blocks. Spendthrift visitors will love Front Street's countless art galleries, souvenir shops, and boutiques. Meanwhile, history buffs will have no trouble keeping themselves busy: as a former whaling port and previous capital of Hawaii, Lahaina is laden with historical sites.
Front Street is also home to one of the largest banyan trees in the nation. The tree dominates an entire 2-acre square and is one of Lahaina's biggest attractions. But if shopping, history, and trees make you say "meh," you'll certainly relish Front Street's many bars, restaurants, cafes, and ice cream parlors.

Maui Tropical Plantation
Situated on 500 acres in Waikapu, the Maui Tropical Plantation cultivates over 40 tropical crops, from macadamia nuts to papaya and coffee. But it's not the crops alone that make the plantation a tourist attraction; it's the excellent shopping, dining, and activities on offer. Spend a morning strolling the plantation's flourishing grounds, where botanicals like hibiscus and plumeria are found in abundance. If you're looking to dive deeper into what the plantation offers, climb aboard an informative tram tour, which takes about 40 minutes and explores the furthest reaches of the property.
The premises is also home to a fresh produce stand, an enormous gift shop/market, a zipline (which is pretty tame— active seniors might enjoy this activity), and an acclaimed restaurant, Cafe O'lei at the Mill House. Entrance to the plantation is free. Open Tuesday to Sunday, 10 am to 4 pm.
1670 Honoapiilani Highway, Wailuku.

Haleakala Sunrise
Usually, waking up at 2 am to stand around in the freezing cold isn't something we'd recommend, but seeing a Haleakala sunrise is worth it. Since getting a reservation can be challenging— and the long, early morning drive to the summit isn't much fun— we recommend going with a tour. Namely, a Haleakala sunrise tour. Haleakala EcoTours handles all the sunrise logistics, so you don't need to worry about getting a reservation or timing the drive to see the sunrise. They'll even pick you up at your accommodation (depending on where you're staying). Plus, Haleakala EcoTours' guides happily pass on meaningful information about the volcano's history, geology, and cultural significance.