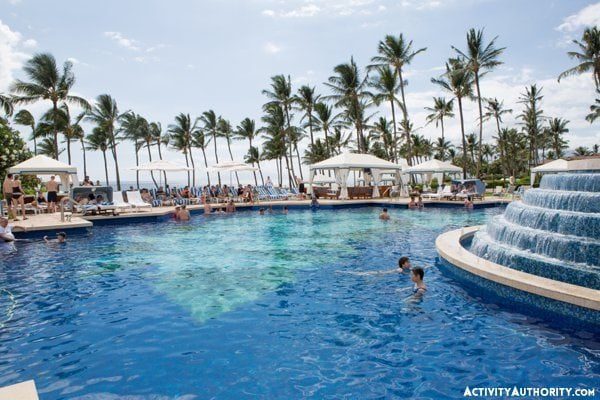 They don't call it grand for nothing: The Grand Wailea—a Waldorf Astoria Resort on the south shore of Maui—has it all: beauty and romance, leisure and play, elegance and authenticity, glee and tranquility.
So spectacular is this spot, in fact, that U.S. News & World Report named it one of the top ten luxury resorts on the Valley Isle, while it caters to more than half a million visitors annually.
Planning to count yourself as one of them? Whether you're on your way there or are dreaming up the vacation of a lifetime, here are 10 things you should know about the Grand Wailea before arriving:
1. This place has mad scale
40 acres of premier oceanfront real estate. 787 rooms. 5,500-square foot suites. Nine pools, comprising 770,000 gallons of water. A spa with 40 treatment rooms. Seven bars and restaurants. In other words, the Grand Wailea is a hotel of epic proportions, leading many visitors to profess that it is a destination in itself.
How does this translate for guests? The expansiveness is hugely appealing to visitors traveling in large groups, while the diversity of activities—more on that below—can be a major treat.
Those hoping to balance their Hawaiian holiday with a serene, cozy experience, however, may want to explore the idea of spending a few nights in smaller, homier accommodations—such as the Waldorf Astoria managed (and adjacent) Hoʻolei: two-story, gorgeously-appointed villas that, with garages and gourmet kitchens, may feel like a home away from home (albeit a luxe one). 50 units are under the Grand Wailea rental program.

2. Its luau is one of a kind
Titled after the ahupuaʻa on which it rests, the Grand Wailea's ʻAhaʻaina Luau is outright exquisite (keep in mind this is the new name; previously it went by Honuaʻula.)
Presented on a grassy knoll in front of the water—while Maui's largest volcano hovers above—this exceptional celebration ferries spectators into the island's raw and reverent past, when two notable Polynesian seafarers, Laʻamaikahiki and Mo'ikeha, sailed into Wailea and learned to co-exist with its gods and goddesses.
Chanting, hula, and beats are paired with an extravagant meal featuring luau staples like lomi lomi salmon, Kalua pork, and poi, island favorites (such as fried rice and chow fun), and a dessert spread as sweet as the sights (guava mousse, anyone?). Flamboyant for sure, but this performance and feast also sparkles with authentic touches, including a traditional imu ceremony and Hawaiian lawn games. (And did we mention the open bar?)


3. Its location is unsurpassed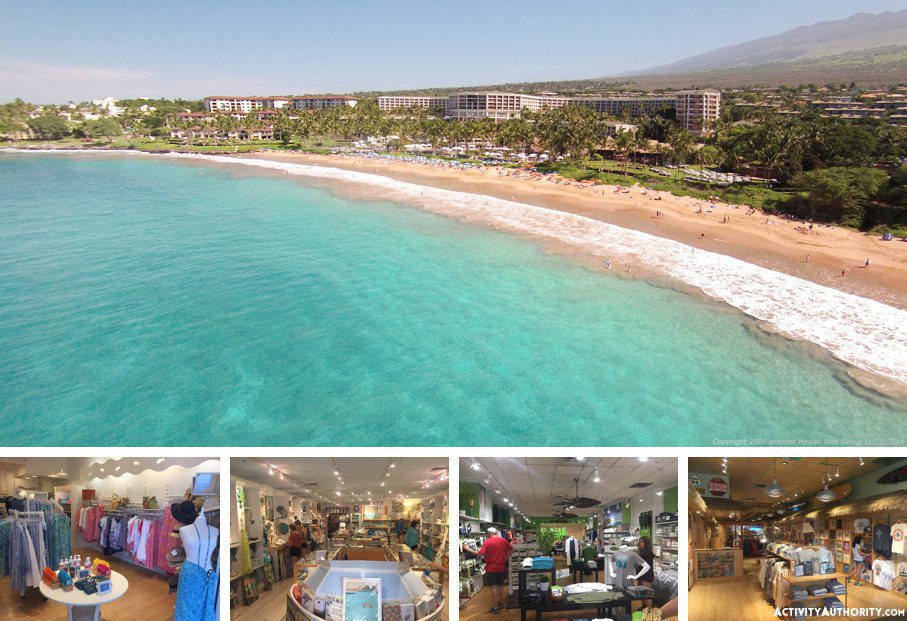 The Grand Wailea's backyard is the lush slopes of Haleakala; its front is an unforgettable shoreline.
Wailea Beach's shoreline, that is—a cove of sun-kissed, sugary sand that peers out at Maui's beguiling outer islands.
Ranked the #1 beach in America by Dr. Beach, beaches don't get much more picture-perfect than this: The glossy water renders snorkeling and swimming superb, while the colorful umbrellas and buzzy crowds underscore the fact that you're on vacation.
Bordering the cove is the Wailea Coastal Walk—a lovely boardwalk that traverses five idyllic beaches and five high-end resorts (and gives shade-seekers the chance to stretch their legs under a mile and a half of beautiful foliage). Through the hotel, you can also go on a guided paddleboard or kayak tour to Turtle Town—an ocean enclave teeming with Hawaiian Green Sea Turtles. Additionally, the resort shares views of the Pacific with The Shops at Wailea next door, where 70 stores offer everything from Dr. Seuss paintings to gourmet gelato.

4. The Grand's pools are to dive for
First, the facts:
The Grandʻs Wailea Canyon Activity Pool includes nine pools spread over six enchanting levels. 2,000 feet long, a lazy river connects it all, while exhilarating features are presented around every corner—including waterfalls, hot tubs, rushing rapids, a rope swing, and a sandy-bottomed lagoon.
Oh, and let's not forget the waterslides: Its tallest starts six "floors" above and shoots you into a pool mere feet away from a bar. With Wailea's perennially sunny weather and a seductive, adults-only pool, it's no wonder the Grand's water wonderland is frequently ranked the #1 pool in Hawaii. Evenings are equally majestic when a pu (or conch shell) is blown during the resort's nightly torch-lighting ceremony.
All that's not to say that these pools, while part of your stay, don't come cheap: Renting a cabana near the water will put you back $600-$2,500 per day, while Casabella beds go for $450 daily. Don't stress, though: umbrellas and chairs are complimentary, and Wailea Beach—100% free—is right in front of you.

5 …and part of that magic includes the world's first water elevator
The Grand Wailea is nothing if not ambitious: As if its pools and grounds weren't outstanding enough, the lavish resort also boasts the world's first water elevator: an enclosed cylinder, open at the top, that takes roughly ten people to the peak of the terraced pools in five minutes. Set in a volcano and surrounded by lava rocks, this is some of the most fun you can legally have in Hawaii.

6. It has the largest collection of art in Hawaii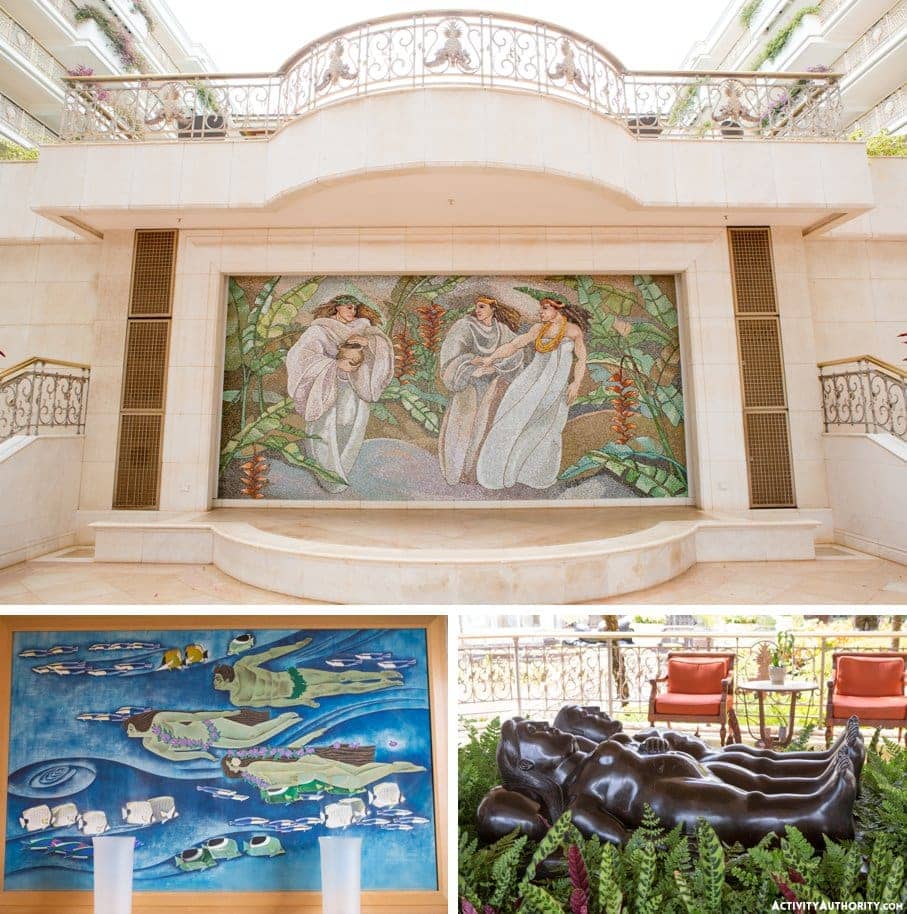 Over thirty million dollars were spent outfitting the Grand's lobby and grounds with art that swerves from dazzling to divine to downright peculiar.
Many of the sculptures that gleam around the grounds were created by Fernando Botero—a Columbian figurative artist whose signature style is depicting humans in outsized, often supine designs. In addition, 81 works—including artifacts, murals, original paintings, and graphics—are sprinkled throughout the resort, giving the Grand as a whole an electrifying, urbane panache.
Indeed, the Grand Wailea doesn't take art lightly; it's immersed it into its core curriculum, so to speak, which ultimately amplifies the resort's overall uniqueness. Outdoor painting classes are offered every Thursday for $40 a pop, while Wednesdays welcome internationally acclaimed photographer Michael Gilbert, who will teach you about light and composition in a three-and-a-half-hour photography workshop. Art collection tours are also given Tuesdays through Fridays, while local ceramicists, jewelers, woodworkers, and more display their inimitable goods most mornings of the week.

7. You can learn to scuba dive right outside your room's lanai
Scuba diving is one of Maui's most cherished sports. And for good reason: From manta rays to reef sharks, Hawaii's waters are just as captivating as its land attractions.
And while snorkeling is great fun—and readily accessible—this soul-stirring activity (invented in part by Jacques-Yves Cousteau in 1943) will take you down to deeper treasures.
Learn the art of it all with the Grand's daily scuba lesson—from 9:30 am-1 pm, skilled instructors will provide you with the knowledge you need to go on a deep ocean voyage.

8. They're at the forefront of Maui's farm-to-fork movement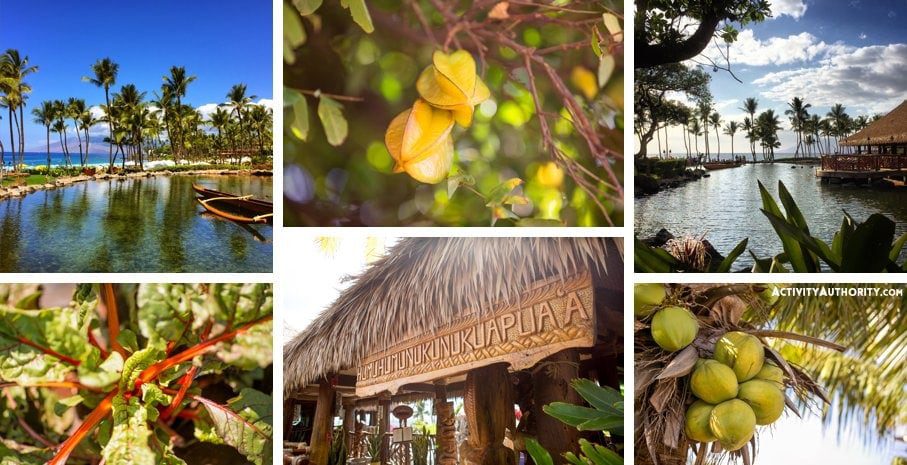 Prior to the resort's opening in 1991 (in its original iteration, the Grand Wailea was the Grand Hyatt Wailea), the area upon which it sits—an ahupuaʻa (or district) traditionally known as Honua'ula—was little more than scrub forest and miles and miles of kiawe, The Grand has, since then, continually given back to the ʻaina it altered: Ultra-low kamaʻaina deals were offered in the early 90s, the resort once hosted one of the most economical and delicious brunches on the island, and the hotel is often applauded for giving back to the community (in 2016, the resort honored 500 Maui senior citizens with meals, holiday decorations, gifts, and prizes).
They're also at the helm of Maui's hyper-local food movement. In 2011, the Grand's splendid restaurant, Humuhumunukunukuapua'a launched Localvore week—a prix fixe menu based on Maui's incredible bounty—while in 2015, it began the Ka Malama Dinner, a five-course fete, based on the Hawaiian Moon Calendar, that emphasizes the greatness of eating seasonally and sustainably. (Adding to the brilliance is a "talk story" throughout the meal that includes facts about ancient Hawaiian culture.)
What's more, many of the resort's eats and drinks are cultivated on the island. Honey is sourced on the property itself, and every month, the Grand offers a dinner harvested or caught by the hotel's staff. (Talk about slow food at its finest.)

9 …and it's a utopia for kids
If you have keiki in your crew, you're in luck: The Grand Wailea has the most extensive kid's program in Hawaii—20,000 square feet of stellar activities that will keep them enthralled for days.
Dubbed The Rock, this resort within a resort includes a sports lounge with a 60" TV, a video arcade (including a PlayStation, well, station), a snack bar, a teens-only hideout, its own waterslide—even a movie theater.
Adventures are offered daily, from crab hunting and scavenger hunts to hula classes and tide pool excursions—making this amusement park of sorts the envy of adults.

10. Its spa is world-famous
A number of superlatives are tossed about when describing the Grand's Spa Grande, but opulent and enormous might be the most apt.
Voted one of the ten top spas in the United States by both Travel + Leisure and Condé Nast Traveler, each of the spa's 50,000 square feet are synonymous with posh—as in Roman tubs, gushing waterfalls, Swiss jet showers, a Japanese furo (read: a mega-deep bath fashioned out of hinoki wood), and five specialty baths.
Their most popular treatment is the Pala'au Journey—a full-body lomi lomi Hawaiian massage followed by an all-encompassing cocoon and scalp treatment—but their Green Coffee and Vanilla Bean Body Scrub is just as delightful. Plus, it'll leave you super smooth and lustrous—and there's no better way to experience the resort's marvels, is there?